2012 — 12 August: Sunday
This won't do, will it?1 I was so tired last night I had to bale out of the gorgeous jazz on Radio 3. Could I be getting old?
A call from Peter (whose health after the tick bite and two weeks of antibiotics is restored) yesterday evening alerted me to the prospect of their need for further financial aid to cover some of the refurbishment work on their new house. Oh well, it's only money and — after all — it's his inheritance were I to contemplate my mortality. I'm sure he can put it to far better use than the guvmint ever would (not "could"... "would").
Meanwhile, down pours a sudden heavy shower. Time for something to eat, Mr M.
I allow myself...
... a nominal weekly "tenner" to spend on music heard (or, more often, discovered) during the Cerys show. How can you be led astray by the taste of a Welsh lady who so admires the tuber? (And, in all probability, the tuba.) Today's serendipity allowance has just been flung at Amazon in exchange for the download of Natalie Duncan's first album — it must be the "devil in me" :-)
Right. Time to nail the virtual wallet shut again. Move along, please. Nothing more to see here/hear...
Who remembers "Bug Jack Barron"?
Norman Spinrad sheds some interesting light on a nefarious Hollywood Studio "accounting practice" that (he claims) has essentially stopped his excellent book from being turned into a potentially equally excellent film for over 40 years. Source and snippet:
Despite all these attempts, Universal has sat on the film rights to BUG JACK BARRON for decades with no explanation. Recently I asked them to produce a copy of the contract that supposedly gave them the rights to hold onto the film rights to the novel forever...
What I have recently learned is that the reason for this is that as long as the studio can claim that the BUG JACK BARRON project is technically 'active' they can use it as an overhead deduction for tax purposes. This does not only apply to BUG JACK BARRON but to scores, perhaps hundreds, of 'ghost projects' at Universal, and who knows how many industry-wide. Scores of millions of dollars of tax deductions are involved in this shady though apparently legal tax scam, maybe even hundreds of millions.
No wonder they call it "development hell". Was it Hemingway who said something along the lines of:

Drive to the border of California, throw your book over the fence.
When they throw the money back over the fence, collect the money
and drive home.

I guess that's assuming they do throw the money back.
It probably goes...
... without saying that "BJB" was only one of four books I bought on my little daytrip to London's "Dark They Were and Golden-Eyed" on 19th September 1970: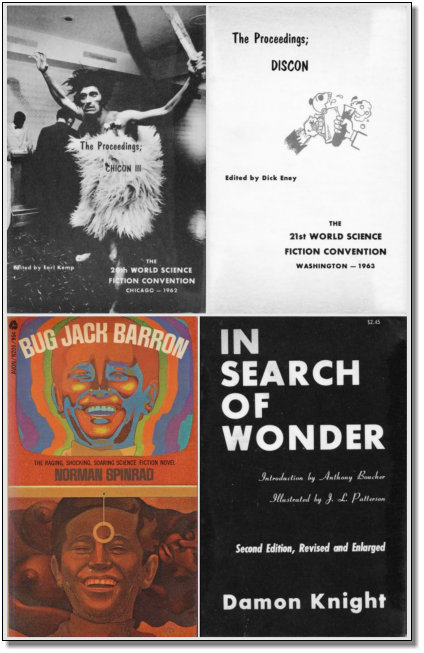 I wonder how much £3 15s 0d is worth these days? At the time it was getting on for half my weekly wage as an apprentice.
If it's Tuesday...
... on a Sunday, then it must be Tuesday Lobsang Rampa (I mentioned this splendid fraudster once before, nearly four years ago). Had I not been browsing for a podcast or two, I could have missed The Third Eye and the Private Eye. Let alone this:
Geographically, the area where those supergurus reside is nebulously defined as "Tibet," "Himalaya," and it often includes the Ganges and India. This, very briefly, is the somewhat auto-erotic credo of a large, and unfortunately still growing, crowd of wide-eyed believers in the mysterious East, apropos which my colleague Professor Hurvitz at the University of British Columbia sagaciously remarked that "for these people, the East must be mysterious, otherwise life has no meaning."
Alas! There's not much mystery left in the East these days.
Footnote