2011 — 25 December: Sunday
Apparently, it's Xmas!1 You wouldn't know it from my current choice of music (Ian Brown's "Golden Greats"). A musician I only discovered while I was buying a stack of blank minidiscs in 'Richer Sounds' a few years ago, while one of his albums was playing in the background. But I suppose I'd better get me some of that sleep stuff.
G'night.
While my breakfast...
... plums finish gently stewing I'm offered a (verbal) picture of a midsummer NZ Xmas gathering ending in the evening and in or around the swimming pool. What a topsy-turvy world. And BBC 6Music has just offered an appropriate snatch of seasonal dialogue (Christmas, East Cheam style) from Tony Hancock. Meanwhile, if the Beeb's forecast can be believed: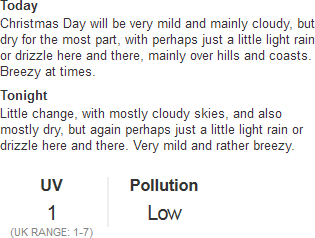 And when have we ever been steered wrong by a local weather forecast?
Right! Time to dig out my walking boots and set off for my rendezvous... a shortish walk up St Catherine's Hill and back along the water meadows.
A delicious...
... light lunch of smoked salmon (far higher quality than my usual Waitrose fare), barley and oat bread with butter made from whey cream, fresh lemon juice, and a small glass of excellent white wine, followed by some riotously entertaining round table chit-chat and I'm now back at home to freshen up and change before the evening meal back in Winchester. Andrew is being 'mine host' though his two guests are (I gather) doing the kitchen duties. I must remember to take them the surplus Humax remote control for the Freeview PVR they took off my hands a while back.
Footnote