2011 — 24 June: Friday
Needless to say, it's now after midnight, and the new shelves are fully populated. I'm exhausted, too, but I may as well get a head start on my next diary jotting.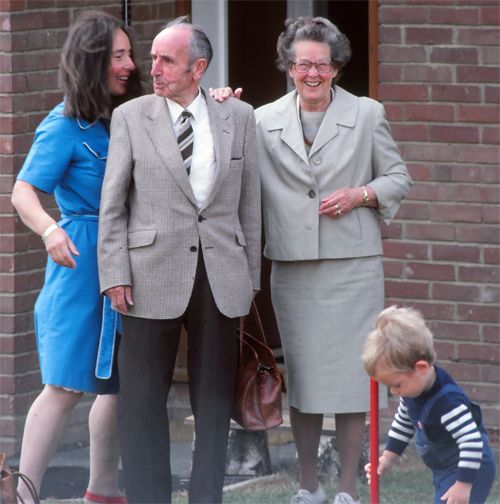 Christa and I always enjoyed having her parents to stay with us. They had retired by the time we met, and had a nicely-relaxed approach to life, the universe, and their three children (though I suspect they were particularly fond of their youngest, and their only daughter). If the number of times they hopped over the Channel to visit us is any indication...
Do I have time for that final cuppa?1
Bright sunshine and...
... the tinkling sounds that remind me I have once again forgotten to put out my now nearly half-full plastic crate of bottles for recycling. It can wait. My next cuppa can't.
Ouch!
It's not just my gently aching back this morning. No "paperless orifice" here, heh?
American hospitals and doctors are paid for the amount of care they produce, not for its effectiveness or its quality. As often as not the doctors don't see the patients for whom they prescribe remedies; they look at test results and consult computer screens — their first care is for the treatment of paper.
Together with the cornucopia of drugs for all seasons (Zoloft, Lipitor, Botox, Viagra, etc.) the American healthcare shopping mall now offers expensive diagnostic tests (CT scan, bone scan, spinal tap, etc.) that allow upward of six million Americans to enjoy the benefit of high-priced bodily home improvements — titanium knees, Peruvian kidneys, two-hour erections, and a sunny disposition. Of the 1.5 million Americans expected to declare personal bankruptcy this year, 60 percent will be forced to do so to pay their medical bills.
Socialised medicine, anyone? If you read to the end of the piece you will discover a final weird truth: "A substantial fraction of the annual tithe collected by the medical-industrial complex is the invoice submitted ($528 billion) to payees in the last, often wretched, year of their lives. The corpses in waiting serve as sacrificial offerings placed on the altars of the god in the ATM". Nicely put. The UK is no better, of course. Dear Mama's case bears this out, just for the care — her current medical treatment is negligible. What an amazing, profit-motivated, engine we've unleashed.
I can never predict...
... my tipping point, but it's already 14:57 and I hardly feel as if I've had a minute so far today. I'm still on a bit of a "tidy-up" kick as (after all) if I don't clear the place up nobody else will. So I've just fitted new anti-slip 'technology' under my extra strip of carpet in the hallway (though the jury is still out on its effectiveness) after a brief foray into Beastleigh to the local branch of Robert Dyas that hasn't closed. Then there was a small retail coup in what I still think of as the Carrefour hypermarket. A hasty lunch. Another outing to refill some of the gaping holes2 in the fridge.
Heck, I even found quite a good birthday card. But how on earth Christa managed to do all this sort of stuff with quiet efficiency and fit in her translation agency work and stay so good-humoured, not to mention busy with all her own interests, still baffles me.
As promised
Not that I've exactly, or even nearly, finished yet. But here's the new look of one wall of what was Christa's study: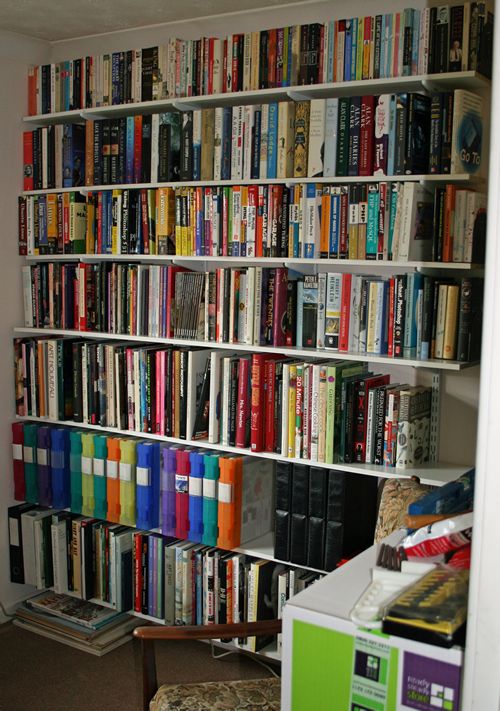 The "rainbow" of folders on the second shelf up hold all my DVD and Blu-ray artwork covers. There is thus a tad more space in the living room for another shelf of CaseLogic folders in due course.
A hard-working chap like me needs an occasional reward. So I've just enjoyed a butter croissant (of a degree of staleness that most would regard as beyond the pale, but that's how I like 'em) with a dollop of this (being tried for the first time). Yummy.
Rather later
As for the minor retail coup: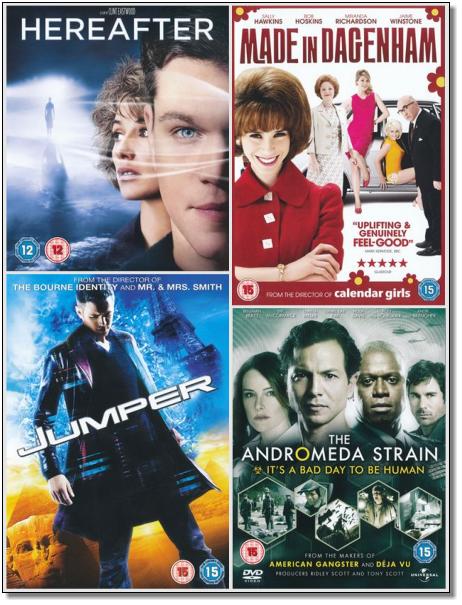 Hereafter
The coup being that it's both a Blu-ray and a DVD, very cheap
Made in Dagenham
Mark Kermode rated this very highly, and it was cheap
Jumper
I watched this with Mike a while back, and this DVD was very cheap (£3!) — indeed, it would have been free had I bought yet another copy of Avatar on Blu-ray. Strange are the ways of marketing.
The Andromeda Strain
I was unaware of this made-for TV version of the 1971 film, and it too was very cheap (£3!)
Of course, cheap doesn't always mean good, does it?
Footnotes