2011 — 30 May: Monday
Another midnight has bitten the dust. I'm four episodes into True Blood season #3 and enjoying it just as much as before.1 With no more blue screens of death (so far) I've just sorted out my next photo of Christa and Peter; this one's from the front garden of the Old Windsor house in the Spring of 1981: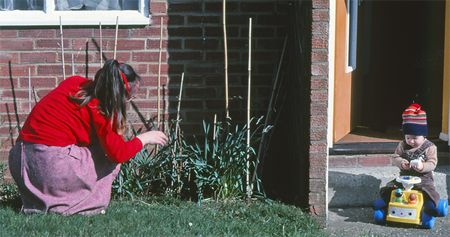 Christa and Peter in 1981
It's 00:32 and that's it for today. G'night.
Golly!
I've not seen "Under the cherry moon" but (apparently) it features one Kristin Scott Thomas, age 24. It's now en route from all the way up the Amazon. (Source.)
Time (09:09) for a spot of breakfast on this grey and slightly damp-looking morning.
A mere 34 years ago...
... (almost to the day) I bought2 (for 30p) a 1940 'Everyman' edition called Modern Humour. On page 322 there's an essay called Translation. 'Le Style c'est l'homme' which includes this entry on "Russia". It seemed quite appropriate as I await the delivery of three fat Swedish novels:
No one can read Russian. That is why their books must be translated. The Russian language is very queer. It is very much like English in many ways, but it has not the jollity of George Gissing or AE Houseman. Go, little translator, and render the big Russian books into your little-mother-tongue.
As you may (or may not) be able to deduce, I'm working through the cartons (from her study) that are full of scraps of one sort or another including — in this case — a sheet of paper she'd saved on which I'd typed out the extract for her many years ago. When I tried to OCR it it went a bit pear-shaped, so I've just retyped it instead.
Tea, Mrs Landingham? Or should we leave it until after lunch? It's only 12:25 but I'm feeling a bit too peckish just for lemonses. Current music is "Lunático" by the Gotan Project. Suits me :-)
An hour later, as I munch my tasty tuna and oven-dried tomato and herb sandwich with accompanying garden side salad, soured cream and chives, while listening to Dinah Washington belting out Hoagy Carmichael's "Stardust", it occurs to me that both Christa and Dad would be more than somewhat pleased. If not astonished. I note a faint suggestion of drizzle outside. It must be a Bank Holiday. I shall defer my next choco delivery to dear Mama until after I've seen my new dentist tomorrow.
In store for me
Mike has just told me that 'my' Buffalo Terastation, which has been on a marathon low-level reformatting exercise for the last 48+ hours, has just 5 hours or so to go before it's (we both hope) ready for active service. It's been a voyage of discovery for him as he finds out how to do things that Mr Buffalo probably hopes his customers will never need or want to do. But the end result, for me, should be two 1TB RAID1 pairs of NAS. The case is almost exactly the same size as the PC Shuttle Christa bought for me back in late 2002. I'm sure Peter won't mind having it in "his" room, where it can keep the Ubuntu server from feeling isolated :-)
If the date on the receipt from 'Play.com' for my Blu-ray copy of "Pride and Prejudice" is any guide (and it probably isn't as I generally just grab whatever scrap of paper is to hand) I jotted this down about a year ago:
Other things that depress a man's sperm count include heat, caffeine, and alcohol. So you can always dip your tackle in Irish coffee before sex.
Good grief!
There is a distinct upper limit on how much of Christa's stuff I can sift through at a time before I have to stop. She died three and a half years ago but as far as my emotions are concerned it might just as well have been last month. Horrible. Right! Time (17:57) to stop and make myself a meal, and then for something completely different.
And so to bed, as midnight approaches. Yawn. Early start tomorrow.
Footnotes