2011 — 28 January: Friday
Busy day ahead1 — it all makes work for the working man to do — so I'm calling it a day for today, as it were. G'night.
Harrier farewell flypast!
Motivated (perhaps) by the Nimrod scrappage story I mentioned to Big Bro (I'm always interested to get his upside down "take" on such matters) he sent me this amusing image (purportedly) of the formation chosen for a farewell salute: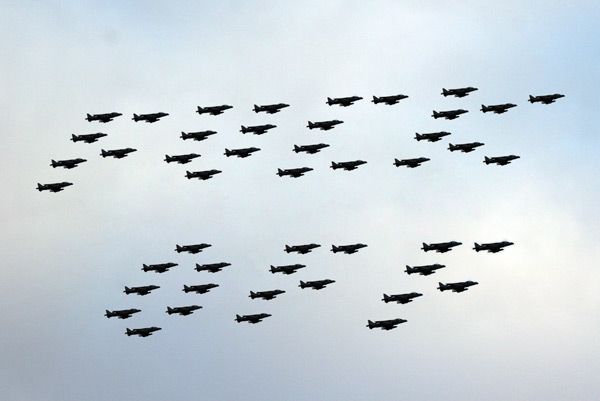 It reminds me (inevitably) of the chap who was sacked having inserted a similar message into about a mile of Blackpool rock after a vivid disagreement with one of his bosses.
I say my own farewell to my car next Friday, but haven't yet managed to get through to the replacement hire chaps to solicit use of its alter-ego for the duration. They need 48 hours notice so I should manage the trick by next week.
It's 09:02, and (cuppa drunk) it's time to hit the Waitrose trail. Breakfast will have to wait.
Blackberry — other fruits are available
I'm assured (by yesterday's lunchtime host) that the rant you can find from here (22 December) is reminiscent of the "dead parrot" sketch. When I've finished my next crockpotted masterpiece I shall check it out myself. Other posts also look promising, which is why I've gone up a level (as it were).
There is a house...
More accurately, there was a house — on the corner of Kings Road and Bournemouth Road — that had for many years been the subject of a fantasy shared by Christa and me. Like the derelict wreck selected by George Bailey in "It's a wonderful life" we'd had our eyes on it. She would be sad to see that it's finally been demolished. I'll get over it, though. After all, it wouldn't have been anywhere near such fun living in it without her... On with the crockpot. It's 10:05 and pretty damned cold out there. Traces of sun through the clouds, though, and the daffodils are having a bit of a growth spurt.
Crock potted, I can finally have some breakfast and ponder this question:

Perhaps they could nip round and tidy up for me here?
Having sorted and (virtually) signed all the "paperwork", and sat in on a 3-way conference call with the DVLA, all is now lined up (I hope) to deliver a replacement hire car next Friday morning. It had jolly well better have an automatic gearbox :-)
Golly, it's Gollum
The "Register" story here wasn't funny, but I enjoyed the sub-editor's panache:

Having had a brief "hands-on" with Christopher's new Kindle yesterday, I was intrigued to read this story about Amazon. If I could be sure of being able to put my own texts on to the device, and of being able to convert some of the Project Gutenberg etexts into its format I would — I strongly suspect — be popping one into my Amazonian shopping basket real soon now.
Update: Thanks to Brian for this high-calibre link.
This (and, in particular, the final paragraph) also caught my eye. I always thought my beloved ARM chips had a few miles left in them... I hadn't realised Apple and IBM were now running neck and neck on quarterly revenue. Golly! (Link.)
Half of the living room...
... is now just about habitable for my visitors. Peter's room is an entirely different matter. There's some blue sky, and Sylvester's getting some exercise, too. It's 13:30 and I'd better grab a bite of lunch. Man cannot live by tea alone, even if he can live alone :-)
Later
It's 25 years since the loss of the space shuttle "Challenger". Incredible. Meanwhile, the fact that Amazon has made lower than expected quarterly profits despite reaching a $10,000,000,000 quarter has helped depress Wall Street. Ridiculous! I shall break into my newest culinary masterpiece as I work out what to do for entertainment tonight.
Just been phoned again by a chap from my previous electricity supplier, seeking to explore again my reasons for leaving them. My patience and willingness to explore this uninteresting topic in the middle of my evening is now over. I think he got the message. And I didn't even swear.
By the way, "Being Erica" was very disappointing, but "Recount" was superb. (I am, not for the first time, at odds with the voters on IMDB.)
Footnote