2010 — 15 September: Wednesday
We went with an animal theme for the evening's video entertainment1 — starting with Lasse Hallström's "Hachi: A Dog's Tale", and (after a tea break) moving smoothly on to my copy of "Temple Grandin". Both are excellent, both are based on real events and real people. Highly recommended.
But, as it's now 01:29 or so, I'm off for some of that sleep stuff...
What's next, Mrs Landingham?
How about renewing the car's tax disc? Then I can arrange both an "MOT" (my first-ever) and the next annual service. There's also the hanging-around involved in the minor matter of attempt #3 to get an undamaged set of bookcases to me for the "once-was-a-study" upstairs. And breakfast too, of course. It's 08:29, cool, and quite sunny out there. Mind you, I'm in here. But I still need an extra layer — we're not in summer any more, Toto.
Oops (and, no, I don't mean object-oriented programming system):
The underlying computer system was inadequately procured and tested, resulting in an unstable setup when it was switched on. DfT staff do not trust the system which is hardly surprising when we hear that on occasion it took to issuing messages in German.
Christa would have liked that. Meanwhile (good gracious) the saintly Sam is being mildly critical about the way other large I.T. companies handle their top executives. It seems he's not quite ready for retirement himself just yet:
Mr. Palmisano, who turns 60 next year, the age at which some of his predecessors have retired, said he has no plans to step down next year. "I am not going anywhere," he said. He is also IBM's chairman.
No early shower for not-so-young Sam, heh? It must be nice to be so invaluable, even if only in your own opinion. There are, as ever, plenty of other opinions on offer here.
Yet another Top 10 list
Somehow, I'd missed this charmless item. Excerpt and source:
1. Appearances are everything.
2. Everyone is talking about who's rising and who's falling.
3. Distrust reigns.
4. Numbers rule.
5. And rules number in the thousands.
6. Management considers lateral communication suspect.
7. Information is hoarded.
8. Brown-nosers rule.
9. 'The Office' evokes sad chuckles, rather than laughs.
10. Management leads by fear.
It's nice to get away from the whacky world of work :-)
Drat!
It's entirely my own fault — the trembling and sweatiness tells me I've left it too long between calories even though it's only 12:31 — salad and kebab here I come. Yum. And a cuppa, of course. Only the second of the day.
Staples diet
I'm getting slightly smarter at this. I simply refused to accept delivery of the two bookcases a few minutes ago (in mid-final mouthful, in fact) on the grounds that I could see at a glance (as Mr UKMail readily conceded) that one of the two packages had clearly arrived via the British Airways "we can batter it for you wholesale" baggage handling division. Score so far: Ordered 8, assembled 6, 4 damaged units in the garage, 2 further units (at least one damaged) now winging their way back in disgrace. Mr UKMail can't split up a delivery to leave me what looked like one undamaged unit — his company's policy. So my next carefully-crafted email is now sitting in a queue at the Staples customer support unit.
Meanwhile, my main co-pilot took delivery this morning of a very tasty little Denon micro-hifi. I've promised to upgrade the (frankly, crappy) loudspeaker cables for him. If I weren't already happy with my own Denon RCD100 (and were that itself not already, strictly speaking, surplus to requirements) I might well be tempted myself. He's now sitting in his conservatory, surrounded by pussy cats and bathed in some surprisingly good quality sound.
Back from a delicious mincemeat comestible at Brambridge it doesn't take very long to spot an equally tasty morsel in my new "Private Eye":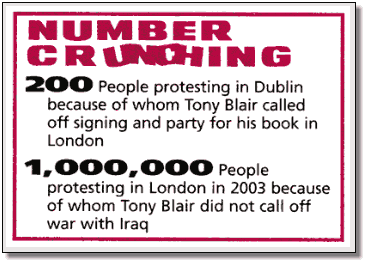 My friend Carol in New York attended more than one of these anti-war protests to equally little avail from Blair's friend — that terribly nice, smart, articulate Harvard graduate in the White House. I guess we all get the leaders we deserve.
Somewhat later
"Centurion" has been added to the little list of films I've seen. A bit gory, and (in parts) reminiscent of that cracker "Figures in a landscape" crossed with the super posse concept from "Butch Cassidy" — not to mention the cliff top jump. But entertaining enough. It's now 21:36 and well past time for my next cuppa.
Footnote