2010 — 31 July: Saturday
My regular reader won't be surprised to learn that I've been listening to the ever-reliable Brian Matthew and those sounds of the 60s. They don't make music1 like that any more... "Hello ceiling, I'm going to stare at you awhile!" — Faron Young — never heard of him.
Elderly rellies
I was browsing through the Hampshire County Council information on care for the elderly yesterday while over with Roger and Eileen for an afternoon cuppa. There's an "Attendance Allowance" payment for the over 65s that can quite possibly be claimed from our generous2 guvmint. (John had a printout of some details from his brother-in-law and I've been investigating further.) The website suggests "you must have had these care or supervision needs for at least six months" but — in essence — this is actually the same payment as the "Disability Living Allowance" that Christa became all too briefly eligible for on a fast-track process given the terminal nature of her illness.
Since "every little helps" when it comes to offsetting the care-home charges, I shall dig deeper.
Having been a bit drizzly out there, it now seems to be brightening up. A cuppa or two and (just for a change) an apricot-stuffed croissant are settling into their own comfortable new care-home.
Oxymorons everywhere
Sadly, however, the world news remains as cheery as ever. For example, it seems members of that squeaky-clean institution the Pakistani guvmint ("intelligence officials" no less) have taken offence at some of the things said by our latest PM. (For whom, let it be said, I didn't vote, but whose recent coalition deal with the left-of-centre moderates to grab power struck me as an unusually wise political manoeuvre.) Good idea that, Dave: offend a nuclear power. Still, I suppose it gives some of our own "leaders" another excuse not to cancel their insane "Trident" toy as Pakistan is a more credible threat than its neighbour.
If our nastily irrational and aggressive species is indeed the pinnacle of creation, all I can say is gawd help us! It occurs to me that Ron Cobb captured a certain something back in 1966 that illustrates my point: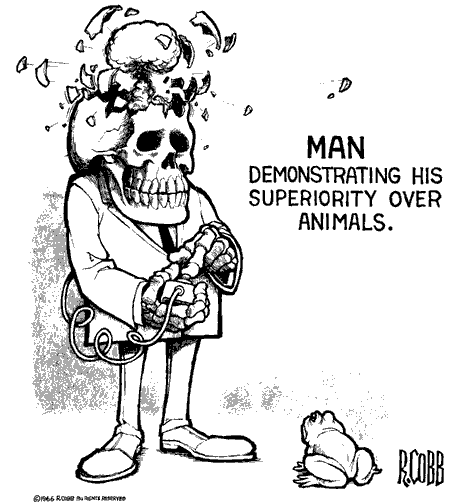 The man's a genius. And, get this, a largely self-taught artist. I am in awe of his talent.
Having maligned Humax...
... without good cause, and having been shown by Lou in TASS (in less than 30 seconds, followed by a much longer delightful chat about upcoming toys and technology) the correct button to press to turn my Freesat PVR remote control once more into a fully-functional PVR remote controller (there's a powerful clue should you click the pic)...

Push the right (left) button!
... I'm delighted to discover that my faithful, blameless, and completely flawless Humax PVR has quietly stacked up four episodes of The Big Bang Theory for me to enjoy while I've been out and about running after dear Mama's future comfort, the plumbing and consequent decorating upheavals, the odd bit of power amplifier replacement and rewiring, and whatever else has been filling my shining hours in the last few weeks.
Since, mysteriously, it's now 13:28 I may just watch one while I have the lunch that now seems to be necessary.
Delightfully dated...
... but beautifully read, and still delightful...

Nor is that just my opinion, as this 1953 book3 by — as it happens — one of our leading scholars of PG Wodehouse confirms: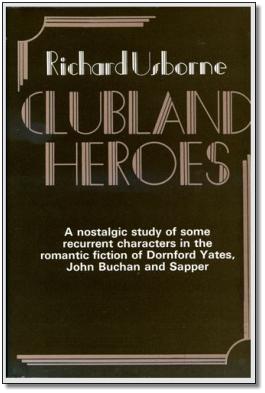 Though I'm not certain I'd class the genre as "romantic" fiction :-) Furthermore the BBC7 continuity announcer made me smile by naming the author of the Drummond book as "Herman" — for 50 years, I'd never realised that's what the "H" of H Cyril McNeile stood for. Howzat?
Plans are in place...
... for a healthy little country stroll tomorrow. Mike and I try to get out at least once a week away from our toys but, just lately, events have been conspiring against us. Well, events can go hang for a while. It's 20:05 and about time for some supper, methinks.
Footnotes