2010 — 4 April: Sunday
Rather nearer midnight for a change. Well, 00:35 or so. I've actually been clearing some stuff1 out of Christa's study. Who knows? I may even tackle her wardrobes next. But not tonight. I've also relocated the bulk of the decorative frog collection (click the pic) from the living room, putting them on the windowsill of her study...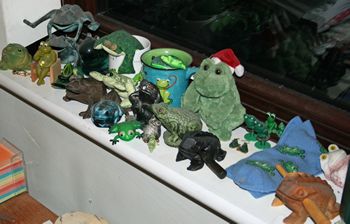 ... alongside the plastic "jar"/"bottle"/whatever that holds her ashes. That way, I've managed to liberate two shelves downstairs to hold a cherished subset of my CDs. (Yes, I know I've ripped most of them to MP3s but, in fact, I've yet to rip most of the classical stuff.) I think her study is going to become the server room. I shall load the new Ubuntu LTS 10.4 Server Edition onto the little 64-bit AMD dual-core HP Media PC (the one that started its disadvantaged life infected with Vista) and use it for my local private "intranet" web server, among other things.
Thanks, Mr ERNIE. The £50 will come in very handy this month :-)
G'night.
The fat old sun in the sky...
... (a Pink Floyd line, from their sublime [and under-appreciated] 1970 album Atom Heart Mother) is doing what it can to shrug off some heavy-looking clouds. It's 09:20 and I'm munching breakfast to some Purcell choral music. Packed lunch is next task, followed by getting dressed, and setting off to rendezvous for our fresh air'n'exercise. It's my third Easter without Christa — a brutal method of cutting down on my intake of chocolate eggs :-(
Pimp your wrist
Let me quote, without further comment, the subject line of one of the five lumps of shit spam I found caught in my email filter on my return from yet another seven mile hike in decent, albeit muddy, windy, sunny, cool, daffodilic and (slightly) bluebellic paths around Horsebridge:
Want to look like a person from the upper class? Your watch will be screaming about your luxury.
The link I'm invited to click is from a domain in Russia. What would Trotsky say, I wonder? Put samovar on, mother, perhaps? It's 16:08 and that's a good idea. I'm off back to Winchester in a couple of hours to help Mike and Bryan demolish a slab of dead pig and watch the second "Twilight" movie — yes, I know the story, but Mike doesn't.
While I'm out in the twilight (as it were) my faithful little hi-def satellite PVR will (I hope) be capturing the final part of Brian Cox's fascinating "Solar System" programme and the "Arena" documentary (produced by Clint Eastwood) on Johnny Mercer (whose music was so brilliantly woven into Eastwood's excellent 1997 movie based on John Berendt's "non-fiction" novel Midnight in the Garden of Good and Evil.
Until then, I'm content to listen to Jarvis Cocker and Stuart Maconie on BBC 6Music, of course. To do some laundry. And to improve the shining hour by trimming what's left of my once-flowing locks. Damned tricky for a myopic chap working by a combination of touch and mirror — Christa and I generally trimmed each other; a much easier arrangement! Meanwhile, Mike's just sent over a picture of a sign I spotted a couple of hours ago. It nicely illustrates what you might call the "Deliverance" side of our fair Horsebridge citizenry: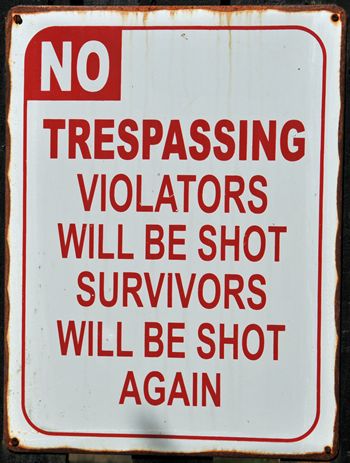 It could do with a spot of punctuation, but I wasn't going to hang around and argue the point :-)
Footnote