2010 — 23 February: Tuesday
I've just noticed it was midnight about 15 minutes ago. And only another five days of February — amazing. Must just rescue the chilling stewed plums and pop them in the fridge, and then catch some sleep. G'night.
Another blisteringly hot, dry...
... start to the day — not. Still at least Lis now has one bionic eye back online after her laser surgery. Details are sparse by the time they reach the old country. It's 08:35 and there are some chores ahead of the Toyota's surgery. But first things first: a cuppa.
Even my non-bionic eyes see no clear evidence to support the assertion that faster [broadband] speeds are "vital to the UK's growth". Meanwhile, happy birthday Handel. I doubt if BBC Radio 3 will similarly commemorate me in 2276 :-)
And, comic fan boy1 though I am, I draw the line at $1,000,000 for Action Comics #1.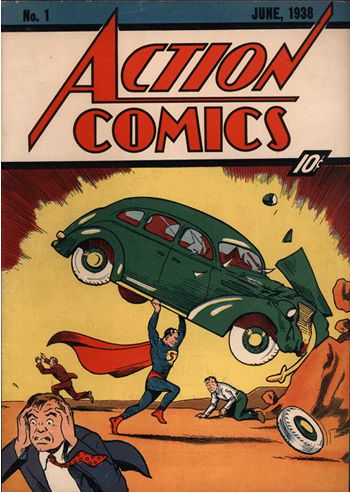 My oldest comic!
(First appearance of the delectably dippy Lois Lane and some caped nonentity from Krypton.) I really must buckle down and resume work on one of my long-term projects obliquely referred to here :-)
Listening to...
... a phone-in (not my usual fare) on complementary medicine. But I need to make some lunch, too. Is that a sausage salad I see in front of me? It's still raining but seems (at 12:43) just a tiny bit brighter. Only a little above freezing, though.
More freedom if you're running a so-called "faith" school to tailor sex education to match the belief system of your particular imaginary, invisible friend / boss. Great! That should help the teen pregnancy and STD rates. (Source.)
Mind you, it's not that long ago that Catholic leaders blocked contraceptive advice as a "quid pro quo" for allowing the vaccine against cervical cancer. Many years ago I clipped a little cutting from the Guardian: "The Vatican in a policy document tomorrow, is expected to brand test-tube babies as immoral, and to allow condoms to be used if they have a small hole." I remember wondering at the time what design they would use for the brand. Something left over from the Spanish Inquisition, probably. It all brings to mind the lovely Monty Python songs in their 1983 musical comedy film "The Meaning of Life".
Time for the "off"
Having made one final attempt to email an ex-IBMer I saw (16 months after the first time) in Waitrose, and having spoken briefly to dear Mama to make sure she's still alive, it's time to go and let Mr Toyota fix my unbroken accelerator pedal. What a nuisance. Oddly, this is the one driving experience that Christa did not have in all her years of chauffeusing me around. Well, that and bumping into that blasted bollard while I was buying her a mobile phone for use in the hospice!
[Pause]
Typical Toyota efficiency (I'm glad to say). Arrive 25 minutes early; car gets taken in 25 minutes early. It also gets a free wash, and the non-Toyota (BMW Mini Cooper S, actually) floor mat gets popped into the boot ("to cover their 'backsides'" admitted the service manager, in not quite those words). I didn't like the look of the traffic on the way down, so I actually carried on "out" of Millbrook and back via the rather busy M271 and then the M3. Not very nice weather, and a bit busy, but it's all grist to the motoring mill. I'm also to be sent a £20 voucher from M&S "for my time and trouble". Best of all, I got to say "Hi" to the simian family Christa and I donated to their showroom what now seems a very, very long time ago. One day I shall have to take a photo of them.
It's 17:18 and a much-needed cuppa is cooling towards drinkability. I also got time to read two of the three "Scientific American" magazines that Len kindly offloaded in my direction. That was a rare treat. Right! What's next, Mrs Landingham?
My goodness. It's taken an awfully long time for The Beatles' "In my life" to show up on The Chain — what a beautiful song. 45 years ago... I'm getting old, Christa!
Somerset Maugham novella strikes again...
... ("Rain", that is). I'm certainly getting too old for wandering around Hampshire if this is an accurate forecast for tomorrow. Ghastly prospect.

Why don't they just say "It's going to piss it down" and be done with it?
Footnote