2010 — 6 February: Saturday
Shades of the much-lamented (and comprehensively unarchived / wiped) Late Night Lineup — I watched The Review Show and very good it was, too. I've not seen or noticed it before,1 or this lady, or this one, or this chap, but I shall probably tune in next week. Not that they'll still be talking about the Oscar contenders...
It's apparently going to be a lot more like winter (again) this weekend. Brrr. G'night.
Summoned by bells...
... from my slothful slumbers, and having been assured by my walking weather almanac that what looks like a rainy start will be fine by the time I've made a packed lunch and whizzed over to Winchester, I'm now (10:11) cramming in a breakfast and vaguely wondering where the morning went.
Some of the oddest ideas make for some of the best radio programmes... Photographer2 Aubrey Powell (from Hipgnosis) was inspired, in part, by Arthur C Clarke's wonderful "Childhood's End":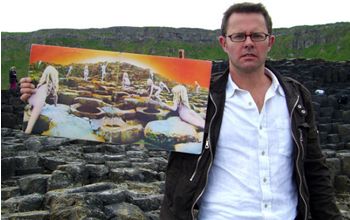 The LedZ album's pretty good, too. (Minidisc r020, dubbed from my ancient vinyl many years ago. Or, to be more precise, dubbed from the tape cassette copy I had by then already made of the original album — as outlined here.)
I see my original aerospace employer 41 years ago (to be more precise, the entity that they eventually became) has just been told to cough up a hefty fine, though I gather the important "corruption" word has been somehow dodged. That's OK then. (Some of the saga.)
Time (11:07) I got dressed and set off...
Back again...
... a smidgen over 6 miles (on foot) and 25 or so (in the car) later, with the news that the snowdrops are out (Mike's pic)...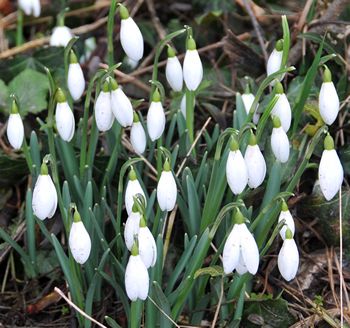 ... This was in and around Kilmeston along a few rather muddy tracks and public footpaths. Those damnable 4x4 vehicles churn things up horribly. But the sun almost appeared from time to time, and the visibility gradually improved. Fresh air is good stuff.
It's 16:08 and the sky looks currently cloudless. Amazing.
What's next, Mrs Landingham? Well, since you've just loaded the washing machine and already sorted out your evening meal (and, possibly, viewing3) why not relax in a nice, hot bath? What a good idea! Don't forget to turn up the volume of the delicious BBC Radio 3 Jazz Record Requests before you [Splash] get in so you can still hear it, will you? (Oh, the delicious freedoms of an empty house.) Next thing you know, I'll be playing my multiple-CD set of a Nusrat Fateh Ali Khan concert from Paris :-)
Out, in beautiful time to switch away from the Verdi (I know; I'm such a Philistine). Now, about that evening meal... I'm starving.
Footnotes