2009 — 4 July: Saturday
Slightly cooler tonight, thank goodness. I watched one of the DVDs I bought in town, and have just been listening to the quirkily interesting Claudia Winkleman. Now here's an old picture of Christa. It's from our first holiday in Guernsey back in 1977: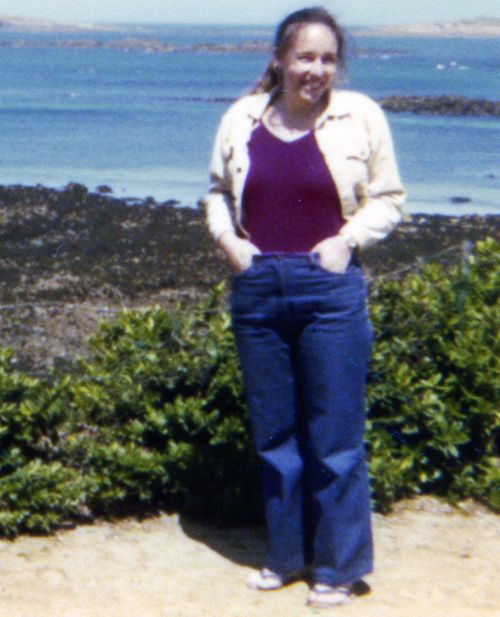 And here's the booty from my afternoon in Southampton: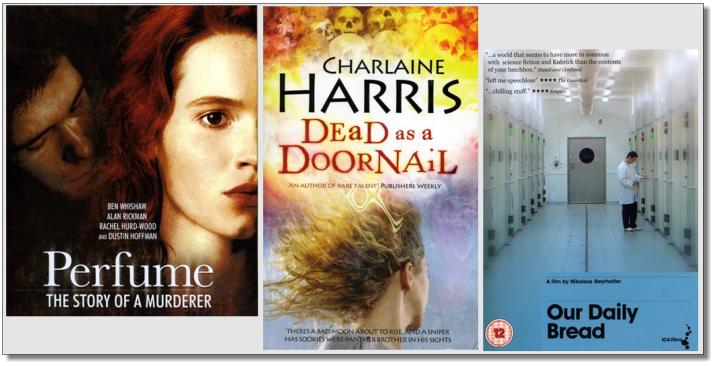 Perfume
I haven't read the Patrick Süskind novel, but Mike recommended the film (and he knows I like period pieces rather more than he does)
Dead as a doornail
The fifth of the Sookie Stackhouse saga
Our Daily Bread
An amazing, dialogue-free, music-free, commentary-free, examination of industrial food production and high-tech farming in Europe
And here's my late-night companion,1 who obviously finds my fluorescent light irresistible: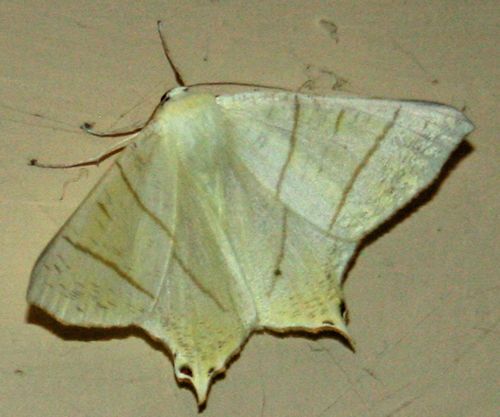 Sorry about the cobwebs, Mr Moth. Mark Lamarr has just told me that Dallas airport is bigger than Manhattan. Didn't seem to be to me back in July 1984. A lot can happen in quarter of a century, of course. G'night.
Breakfast is...
... at 11:10, rather later than usual. It's actually raining a little and is pleasantly cooler. I've just done my first-ever Borders customer survey (within the 48-hour time-limit, that is) and now have 90 days to redeem a 15% discount. I notice2 they carry e-book reader hardware...
Lunch is...
... at 14:18, only just about being thought about. I've been out and about, assembling my next batch of crockpottery magic, cleaning corpses of insects off the see-through bits of the car's carapace to keep them see-through, and delving gently into the web aspects of my latest level of Xara Xtreme. And very much liking what I see.
Meanwhile Mr Postie has brought me a begging letter from that bank I (along with the rest of the UK) now own 75% of. Would I please use their Gold credit card as otherwise they will have to euthanise it? The Co-op did the same thing with one of my Platinum cards a year ago. I find if I ignore things (like this, I hasten to add) long enough they end up doing what I want them to do in the first place, but without me having to badger them. Besides, how many credit cards does a single non-travelling widowered pensioner need in any case? Three is surely enough. And less is definitely more.
Now I'm hungry! I have started thermally agitating a chicken pie, to be accompanied by a couple of vegetables. Meanwhile:
The V(o)ice of Experience
Saint Pilling was asked how: "to print an A4 page to Adobe PDF as it always defaults to 8.5in x 11in. and scales the page to fit."
There's a simple answer, despite the Saintly one's response: "In my experience there is always an odd duality on Windows between setting things from the Printers Window (Start Menu or Control panel) and setting them from properties in the application doing the printing. I've spent many happy(?) hours trying to set the default and failing".
Two seconds intense research (thank you, Mrs Google) and here it is, though perhaps "simple" isn't the most appropriate adjective. Here. (It's a PDF file — of course!) But you hafta love its title: The A4 Paper Problem & Printing from PDF Documents. Why does it all bring back unhappy memories of attempts to print £ and $ symbols, and (as often as not) getting a #?
Right! Lunch is finally a recent memory, and (at 15:30) my pud is a delicious mixture of stewed plums and fresh strawberries that I shall dub "fruit salad". Back to the excellent music on BBC Radio 3 and this Xara software.
There's something oddly appealing at the thought of the "Harry Potter" actor buying a piece of art rather than his first car. Click the pic for an interview.

Later
Well, having watched the Wimbledon ladies doubles final I can now confirm that the difference between the BBC2 standard definition and the BBC Hi-Def satellite picture on the 60" HD plasma screen is that you can freeze frame the hi-def recording and count every square on the mesh of the net. Not that I did, you understand. I'm now listening to a radio documentary on Donna Summer. What an amazing voice. One of the best of the 1970s, methinks. But I never realised it was Giorgio Moroder who produced "Love to love you, baby"! Not to mention the drum machine. (And the 22 faked orgasms, according to "Time" magazine. Best not go there.)
Footnotes