2009 — 7 June: Sunday
I've been enjoying the fourth season of Weeds. Five episodes in, it's safe to say that it's funny, dramatic, and cleverly twisted. What's wrong with that? And so to my next photo of Christa, for which please come back with me to 11:10 on the sunny morning1 of 30th April, 2007: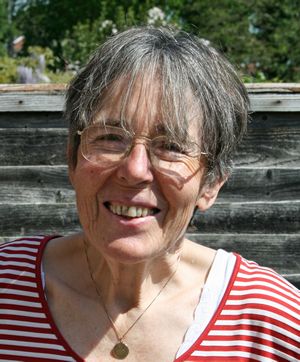 Christa in the garden, April 2007
If the TV weather forecasts are to be believed we may be in for a wet, stormy night. Hatches battened. G'night at 00:28 or so.
Donner und Blitzen...
... or should that be Sturm und Drang, woke me in the wee small hours, so I had a wee and re-re-retired (I'm already retired, and had already retired). But it looks like quite hopeful walking-in-the-sun between the showers weather right now (09:37) so I shall shovel in some brekkie and a cuppa, throw a packed lunch in the ol' rucksack, and get out into the newly laundered air.
7.02 miles later
I'm back, only slightly footsore, and certainly unrained on. Things got off to a poor start because I was so focused on avoiding the roadworks in Leigh Road that I ended up embarrassingly "downstream" of the motorway entry I needed for Winchester, but I managed with a half mile diversion. A pleasant local ramble around bits of Winchester and along bits of rather full river plus lunch taken on a railway bridge. Loads of blue2 damsel flies at one point, too.
It's now 16:18 and fair to say the first cuppa never touched the sides. I also — despite Mike's full awareness of my video backlog — have two further films to watch, dammit: Caffeine and Felon. So I suspect that's the evening entertainment sorted already.
When all at once, I saw a host...
I've been playing with the photos that Mike sent over...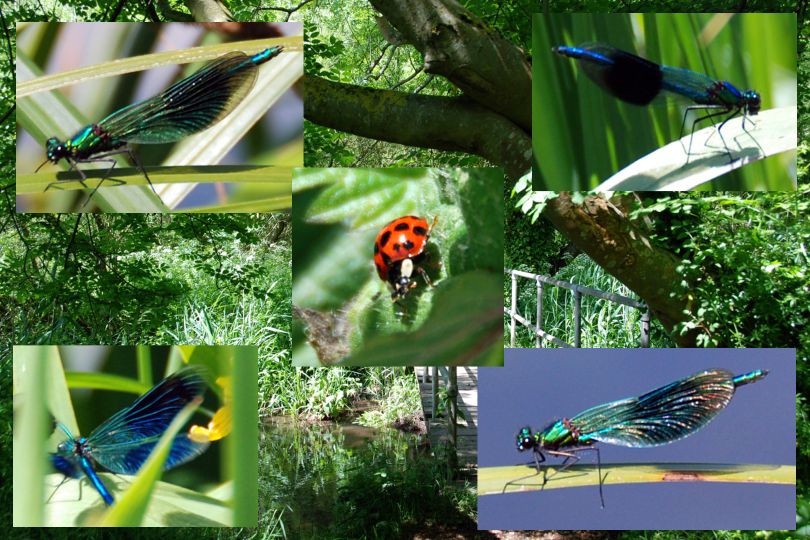 I think the word is "iridescence".
Sound advice
Following a link from a link (you know how it is) in the latest Ubuntu newsletter, I'm now left wondering whether the key to my ongoing struggle with my Ubuntu sound system isn't buried somewhere here. Care to comment, Brian?
Who knew? Daryl Hannah has an interesting web site. I never knew she's the niece of Haskell Wexler. (Source.) The film Caffeine is pretty quirky. And the pollen level seems to be on the increase. Time (21:07) for a cuppa!
Fifteen years to the day since Dennis Potter died. How amazing.
Footnotes