2009 — 2 June: Tuesday
At last, it's pleasantly cooler — as well it might be at 01:36 I suppose...
Tonight's photo of Christa, taken by Brynja, is one from a batch of ten portraits she took back in August 2006, and very glad I am to have these: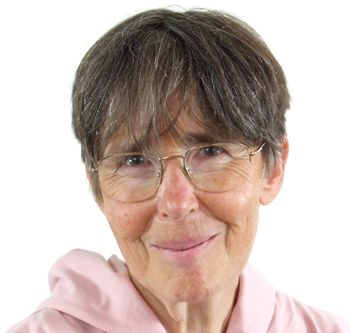 Christa in August 2006
Time for some sleep. G'night.
Climate weirdness continues
Sun, blue sky, whatever next? Wolves down from the hills, perhaps. It's 08:53 and I need a cuppa.
Political weirdness continues
What exciting lives our leaders must, erm, lead, to permit them to overlook which is their second home or whether they're continuing to receive expenses after they've paid off (or, more accurately it seems, we've paid off) their sometimes non-existent mortgages. Today's example is our Transport Secretary. Back when he was our Defence Secretary in April 2003 he made a widely-reported mis-statement about a town similar (he said) to Southampton.
Shelf medication
What a glorious time to be a hypochondriac. Has he never heard of the placebo effect? Snippet and source:
"And the next problem is that many of the things available over the counter don't work — most vitamins and cold remedies, for example, are a complete waste of time — but they are still things that make lots of profit for the pharmacist. So it would be far better for your health if you invested your money in fruit, but if you go to the pharmacist he or she is unlikely to suggest that, and you're likely to come away with a jar of pills that won't do any good."
Aah. That uncomfortable feeling. Yep, I've forgotten to eat anything. I was reading one of yesterday's acquisitions...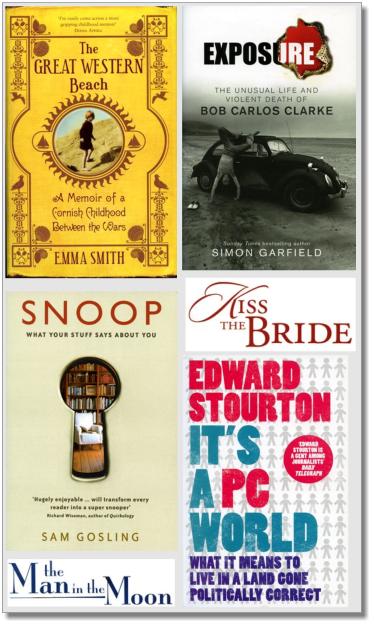 ... but it's 11:32 and I needed some breakfast calories. Actually, only four of these are from yesterday, one of them being handed to me by my neighbour after he'd ripped it open thinking it was his Amazon delivery. (That was his story.) The two "titles" are my new "no wasted pixels" approach to DVD covers and showed up a couple of days ago. Last week, in fact. I'm getting lazy. "Man in the Moon" was Reese Witherspoon's first film; it's directed by the same chap who made "To kill a mockingbird" and I found it after idly IMDB-ing1 his other work.
Last night's excellent film, by the way, was the first feature-length one from its writer/director. Remarkable. I've just ordered his only other film, a 2005 Oscar winner. One to watch, in both senses. Meanwhile, this is fascinating.
Good to see PJ O'Rourke still on form, too.
The phrase "bankrupt General Motors" ... leaves Americans my age in economic shock. The words are as melodramatic as "Mom's nude photos." And, indeed, if we want to understand what doomed the American automobile, we should give up on economics and turn to melodrama...
Cat gut and horse hair
My dad was a self-taught pianist (and, to a lesser extent, violinist). His favourite violinist was Stéphane Grappelli and he loved the music of the Hot Club quintet. (Oops, I've just been side-tracked by this fascinating Roger Waters ramble... where was I? Oh yes.) Tom G has just tipped me off that tonight's "In Tune" features gypsy violinist Roby Lakatos with his quintet. He says "saw him in Edinburgh, quite fantastic. One of the greatest gypsy violinists ever, leading a fine band, including a cembalom played by a madman. Outstanding. Music is a mix of Hungarian gypsy and klezmer". Klezmer is neatly defined here.
My other parent...
... is still soldiering grimly and miserably on. If what she said just now on the phone was correct she no longer knows who I am, or that she has an (even) older son in New Zealand, or even that she has grandchildren. Nor how old I am. Or how old Big Bro is. Or that she has a daughter-in-law called Lis. Or that she used to live near High Wycombe. I lacked the spirit to introduce myself as "Christa's husband" but I can't say I wasn't tempted to. She does seem to recall that Christa died, though we danced a little delicately around the topic as I'm tired of hearing how she's been alone since 1975, and never sees anyone, and never has any contact with anyone. (Although I stopped my weekly letters after a non-responsive 12 years plus, John tells me he writes regularly though she denies this.)
She asked me my name at least three times in the course of our 15 minute "chat" and asked me three times where I lived and twice where that was. She never once addressed me as "David". She tells me that her memory has packed up though some things she says makes it perfectly clear that that simply is not true. But this is not much of a life, is it? I was actually calling to introduce her gently to the news that a) the family is depleted to the tune of one mother-in-law last week, b) that Lis (who?) and I (who?) may therefore call in on her within the next couple of weeks, and c) that next time she checks her bank statement she should notice an upward lurch in the total courtesy of her late sister's estate settlement.
This next bit would make you crack your ribs, Christa: "Oh, money means nothing to me." (!) Good job I was still in the good mood brought about by the just-concluded little expotition out to the Wallop Aviation Museum café for a lunch and afternoon tea with my main co-pilot. He was in search of a very particular cap from their shop. And on my return I now have another little something to read — the Amazon Home Delivery Network has realised it can gently sling parcels over my garden fence (or "gate" as they choose to define it) where, after only minimal perils from a weedy jungle, I can retrieve them. Providing I know they are there, of course.
Good grief! It's 18:03 and still a cloudless blue sky. Whew. And Clement Freud from the 2000 Edinburgh Fringe. Excellent.
Massive OCD failure... dept.
Well, when I went to look up the other books I already have by Matthew Engel to go with this afternoon's garden parcel (and I was thinking, in particular, of the fascinating one I mentioned here) imagine my "shock horror" to find it (not) in my little database. I wonder what my excuse was this time. Anyway, his latest book bodes well...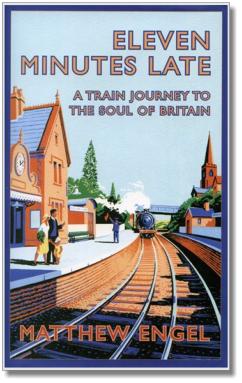 ... and even contains a snippet of unpublished Betjeman verse, too:

I'm paid by the buffet at Didcot
For insulting the passengers there.
The way they keeps rattlin' the doorknob
Disturbs me in doin' my hair.

Imitable?
It's 22:21 and so hot up here that I'm about to decamp downstairs and grab a pixel or two. I've just scanned the DVD cover artwork for Cirque du Soleil's "Varekai" which, our charmless film censors note, "contains mild imitable techniques" though they still deem it "suitable for all".
Footnote