2009 — 2 May: Saturday
Well, it's a sunny 08:27 or so. Excellent. Listening to some Nick Drake on Brian Matthew while preparing my latest picture of Christa — another of what I like to think of as my artistically-blurred specials. She shook her head just as I clicked the shutter, but her smile still comes shining through: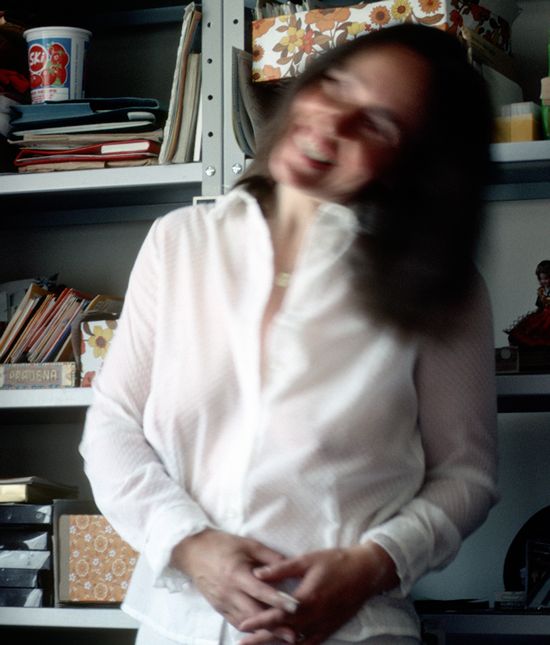 Taken just a couple of seconds before its clearer companion here and just a few feet from where I'm sitting right now. The plastic-coated steel shelving (our original bedroom furniture here) lives on in the garage.
Upcoming goodies
There's an amusing interview with Sarah Silverman here (with a wicked old joke at the end), and I'm delighted to note (having only just scanned through my "Radio Times") the world premiere tonight of a satirical operetta by Armando Iannucci. Plus, if I can hang on until Monday, another edition of the "Record Producers" is going to be looking into 10cc. (If it's even only half as interesting as the previous edition — about Roy Wood — I shall be delighted.)
First cuppa sunk; time to think about breakfast...
Stone me
Reading this reminds me (not for the first time) about the saying that "If a man isn't a communist at 20, he has no soul; if he's still one at 40, he has no brain." Yikes!
And, speaking of reading, I've just (12:03) been updating my "books" database (ignore the incipient OCD; like Gene Wilder's Leo Bloom character with his little blue comfort blanket in that wonderful movie "The Producers", I can handle it if I really have to) and have just added that Jane Austen parody / spoof / whatever noted here. My "Amazon" receipt...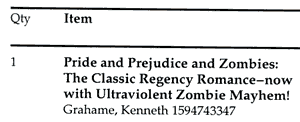 ... suggests the co-author wasn't Seth Grahame-Smith, but Kenneth Grahame. Adding zombies to the "Wind in the Willows"? I think not!
Later
While I (quarter-)listen to a new BBC production of The Admirable Crichton I'm further bemused by Amazon's latest bizarre email suggestion. Since I bought the (George Bernard) Shaw collection (of BBC TV plays)1 they think "you might like to know that "Top Gear: The Complete Season 10 & Clarkson: Heaven & Hell" is now available." Somehow I don't think so.
Why I love the web... dept.
As I digest my evening meal and (quarter-)listen to the strange operetta, it occurs to me to ask: Did I ever mention I like footnotes?2 Because I stumbled over one in that Trevanian memoir and was momentarily mighty irritated not to find it printed anywhere in his book. In fact, he provided a separate 70-page PDF file of the things, hanging them off his fascinating web site. Among other treasures to explore once there, is this interesting list of 100 worthwhile films. All made before 1970, notice.
I must say, BBC Radio 3 has excelled itself this evening, and there's still more to come as they are repeating that "Jazz Library" interview with the late, and sadly-missed, Ian Carr at midnight. I started following his music back in the earliest days of his jazz-rock fusion band Nucleus in 1970/71. So much for my new "early to bed" policy.
Footnotes