2009 — 8 January: Thursday
Tonight's picture? A tricky one to light because of the gloss paint and the flash. Oh well, can't exactly go back for a re-shoot, can I?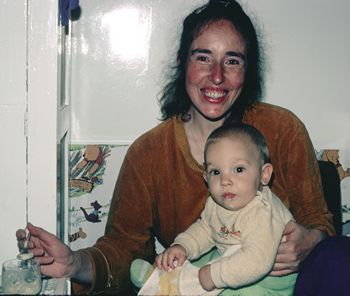 Christa, Peter, and supper in 1980
G'night, at 00:22 or so. Well, actually, it's nearer 01:39 — that's what happens when you sleep long in the morning, I guess.
And now, suddenly...
... it's already 10:54. I've replied to some of the email, sunk a cuppa, photographed a couple of tits1 across the road (thank you, madam!) and given no thought to breakfast in the blazing sunlight currently visible. (It wasn't when I staggered downstairs at 07:30 or so for the first antibiotic, I can assure you.) And I'm actually listening to some Schoenberg (not that a tune has yet emerged).
Happy 37th anniversary, Big Bro and Lis. Hope it's not too hot for you standing on your heads down there in New Zealandland. And, yes, I remember Elvis (Costello).
Poor ol' Aunty Peg
Dear Mama's elder sister died last August and I've just written to her solicitor regarding a minor-league bequest. Death, taxes, and probate, heh? My first two snail mails of 2009 (since I'm copying her younger sister). Time for some fresh air and a tiny trip into town, methinks. It's 12:58 already.
Sign of the Times... dept.
I've not regarded The Times as a serious organ since it was bought by an Australian media mogul. That doesn't stop it from accidentally publishing something worth reading from "Times" to "Times" though:
A callow, androgynous blonde-quiffed youth in funny trousers and a scarf moving into the country mansion of his best friend, a middle-aged sailor? A sweet-faced lad devoted to a fluffy white toy terrier, whose other closest pals are an inseparable couple of detectives in bowler hats, and whose only serious female friend is an opera diva...
... And you're telling me Tintin isn't gay?
If it ain't broke... dept.
I really should know better. A couple of weeks ago I upgraded the firmware in my Oppo DVD player. All seemed well. But, in fact, when I eventually got around to playing a non-Region 1 DVD I soon found out it had lost (and I then had to re-apply) the multi-region handset hack. No problem. But last night (well, technically this morning) when I popped in a PAL Region 2 DVD something just didn't seem right. And indeed, on checking what resolution signal was arriving at my DVDO video scaler, it was being sent an NTSC 60Hz 480i video signal, not the PAL 50Hz 576i that it should have been. And could I persuade it to change its little mind about the nature of the DVD? Nope. I suspect Mr Oppo is now hanging on to its coveted shelf position by, as it were, the skin of its teeth.
Speaking of which (teeth, that is) the twinges are somewhat diminished 30 hours into the course of antibiotics.
Anyway, it's now 17:07, the temperature is barely above freezing, interest rates have dropped yet again (to the level set in 1694 when the Old Lady of Threadneedle Street first set sail, I gather — can you believe it, Christa?!) and I've been back from my little expotition for nearly an hour. Letters are on their way to solicitor and aunt. (How quaint snail mail seems these days!) I had a most enjoyable browse in a couple of bookshops (now, there's a surprise) and also found myself eyeing up quite a tasty quad-core PC or two.
Only in America... dept.
Things are getting out of hand, as (I'm morally certain) the divine Nancy Banks-Smith once almost remarked in one of her delicious columns of TV criticism — "At which point, even the unshockable Ms. [Anna] Ford began to look uncomfortable. Things, as Willie Rushton might have said, were getting into hand."
Larry Flynt, founder of Hustler magazine, and Joe Francis, the man behind the Girls Gone Wild video series, are seeking Congress's help in propping up the porn market, which, they say, has become the latest victim of the global economic downturn... Flynt and Francis, who say that adult DVD sales have dived 22% over the last year, argue that they, too, deserve a helping hand.
Meanwhile, here in the Benighted Kingdom... The Advertising Standards Authority may yet have to rule on the existence of God, following a complaint about the atheist slogan on the side of a bus. How cool is that? Even better: According to Tim Bleakley, marketing director of CBS Outdoor, which handles advertising for the bus networks, "advertising guidelines" require the word "probably"; to say that there is no God, he said, "would be misleading — So as not to fall foul of the code, you have to acknowledge that there is a grey area". (Source.)
Grey areas — the salvation of bureaucrats everywhere.
My Word
I resisted the Feb issue of Linux Format (it actually looked pretty uninspired). But I got the new issue of "Word" with its regular CD attached. And a tiny quartet of stuff to read:

An insight (of sorts) into my purchasing decisions:
The Colgan is intriguing.
Each chapter begins and ends with the same (different) factoid, going for a wild loop in between. For example, in his chapter "By Jove! What the Dickens?" he links Roger Dean, Uriah Heap, Robert Hawker, the National Trust, Dr Thomas Southwood Smith, yellow fever, mosquitoes,2 the De Havilland Mosquito, the Bristol Blenheim, Frank Barnwell, the Bristol Jupiter engine, the Roger Dean stadium, and back to that LP sleeve artist. Neat.
The Garfield is beautifully written.
It has an opening very nearly as good as those of Joseph Heller's first two novels: "Little do wives know how much men spend on their hobbies. But my wife is about to find out." And is all about obsessive stamp collecting, wrapped in a memoir laced with tragedy.
The Spoto is interesting.
It's quarter of a century since my "last" Spoto — the biography of Alfred Hitchcock, which I bought while on an IBM business trip to Dallas (testing the CICS Primer on a batch of batch programmers). I found Alan Bates a charismatic actor but had no idea of the extent to which his complex life was also laced with tragedy. Odd.
The Lloyd and Mitchinson looks amusingly erudite.
And is just stupidly, amusingly, irritatingly, quite interesting.
Footnotes