2008 — 24 December: Wednesday
I'm about to switch things off around here for a few days, as I did last year. Last June I dug out a picture from early 1975 in High Wycombe — Big Bro and Lis were over here with niece #1 saying farewell to Dad. Here's another picture from that geologically remote era: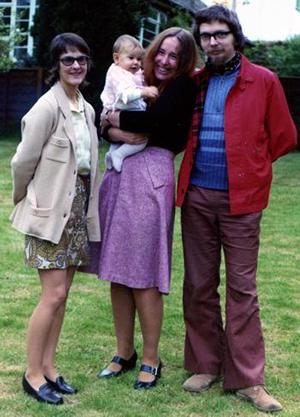 Christa (holding Michelle), Lis and David in High Wycombe, 1975
I think you have to admire my total lack of colour and fashion sense... G'night. And season's greetings, too! Normal service will resume providing I get back home safely after the festive spasm.
What a grey day!
It's 08:31 and not what you'd call "summery". I can hear the motorway traffic — but then we've been able to hear the traffic from it for the last two decades or more. I shall consult my online mapping route planner for any last-minute hold-ups, pack a lunch, load the car, and off I go.
Late update
Safely arrived at about 14:00. Mind you, the original game plan did not call for the unguided tour of the underpasses of central Birmingham, let alone the flying visit through the middle of Spaghetti Junction — even Christa drew the line at that, as far as I can recall. Alas, things went slightly awry with Mrs Dominatrix — she never properly recovered after the second pit stop, but remained on half bright and disturbingly silent.
What had happened was that I'd activated the screen lock. But I learned a couple of weeks ago what happens when you fiddle with controls while driving along, and I was on a busy motorway at the time. Having — obviously — eventually taken a wrong exit and ended up basically in the middle of the city, I pulled in at a garage and managed to pacify the surly woman. Thereafter, all was relatively bright, and clearly-enunciated, plain sailing. So here I am.1
Next stop, some last-minute supplies and some present wrapping, interspersed with general chit chat with Leigh while Ann is away fetching her Mum for the festivities. Junior has yet (17:15) to arrive, but did call yesterday to warn me he'd be pretty late arriving. I'm again at the top of the house in the "David" suite. All is nice and quiet. Car is now safely parked on the drive; Ann just arrived with her Mum (I've done my hotel porter act). What's next, I wonder? There are some enticing smells of cooking for a start. Another difference from last year, by the way, is that I now have my iPod with me, so I can erode some of the backlog of NPR and other broadcasts — I do feel news ceases to be news after several months.
19:05 and I've fitted a wireless door bell, am enjoying a Christmas drink, and eagerly awaiting the meal. I've also caught enough bits and pieces from a recent "Paramount" weekend of Black Books to cause me to investigate beyond Series 1. Leigh is archiving a bunch of stuff off her SkyPlus to make room, but assures me she's already plumbed in "A matter of Loaf and Death" (the new Wallace & Gromit) — I should have realised that, she said.
22:10 and I've polished off the last of my packed lunch as supper. Junior rang about an hour ago but, needless to say, my mobile was where I wasn't. He expects to arrive at around 11 or so and may be hungry. Meanwhile my background task, unhelped by a vodka and tonic, but now helped by a cuppa, is to sort out the chaos that is Leigh's music collection on her laptop and its associated external disk drive. There seems to be a combination of duplicates and ghost entries. She's been using iTunes but may have loaded the same files more than once into its library. I've downloaded Winamp to see what it makes of the same set of data files.
Right! Tea-break over!
Turns out the problem lies in the data itself, partially in the inadequate ID tagging and partially at the hands of the friend's son who assembled this collection of material without the sort of care and attention that occasionally got me called a "nit-picking pedant" in the IBM Lab.
Junior showed up, has been fed, and is now (00:30) trying to crack his way into Leigh's wireless network. I've retired, and am listening as I write (but not as I type!) to hypno (Man Data Sound) from the Greek CD dubient that I bought a while back. Yes, I know I said I'd be catching up on some podcasts but somebody left a couple of excellent playlists of music lying around (from almost exactly a year ago, actually) and they're too good to miss.
Footnote