2008 — 4 December: Thursday
Unless the snow is too deep and crisp and even, I have a tentative date for a little adventure. Mind you, I also have my next crockpot to stuff. For a change, tonight, a picture of the two of us. I'd carbon date this one to the late summer of 1974. Who on earth is that skinny youngster, I wonder, and whatever happened to him?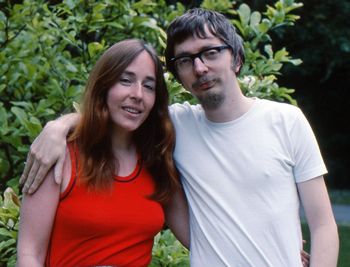 Christa and me in Penn, 1974
Was a busy evening of audio database work, all in aid of not overlooking anything this time around. I'm damned if I'm going to tote all the CDs up and down from the loft for a third time, and I need a longterm solution to what to do about all the minidiscs. My goal is to get them all transmogrified into mp3 format, but that is a many months of work project (I know, because it's essentially similar to the exercise of turning all my non-classical tape cassettes into minidiscs1 in the first place, before I bequeathed a large box of the things to Tony Davison.)
Perhaps one day I'll even get a chance to play on the new Ubuntu system? The idea is just to use it as a test bed, for a variety of experiments including a home network storage system and (possibly) media server. There's no guarantee I will keep Ubuntu on it, though it will certainly remain a Linux machine from now on (this is what was the pint-sized AMD64 dual-core HP MediaPC I bought earlier this year for use alongside the A/V system). One of its uses is as a digital photo frame with all the DVD cover artwork available — another as-yet-uncompleted2 project <Sigh>
G'night.
Chew faster, dammit!
It's 10:29 and I'm due out of the house at 10:45 into what looks like worsening, and very uninviting, weather. Today's one of those days for huddling round a simmering crockpot, so that will be one of the next items on the agenda, assuming we make it back alive.
Aside to Christa: now that I need interest rates to be sky-high, they are lower than they ever were when we desperately needed them to be low, and apparently they are set to fall still further. (In fact, they're now down to 2%, as they were [source] the year I was born.) We are urged to borrow and spend our way out of recession as good citizens. Richly ironic, heh, my love? Perfect timing.
Tanglefoot ale...
... hit the spot, as I wasn't driving. Also (after concluding the official business in Winchester), a quick tour of Hampshire and the edge of Surrey, including a side jink up to Farnham Castle (or what's left of it that isn't a conference centre) and, on the way back, a pause to admire the steam chuffa chuffing past on the Watercress Line. It's now 15:00 give or take a pip or two, and time for a cuppa.
Today's Postie drop3 takes me back. "The rime of the ancient mariner" (Coleridge) is a pretty tall tale, illustrated musically by David Bedford in 1975. It's all very well producing a digitally remastered recording — there's still no escaping the fact that a CD sleeve is no match for the original 12" vinyl album cover artwork. However, I did pick up (almost exactly 29 years ago) a copy of the poem, with the Gustav Doré engravings — so click the pic: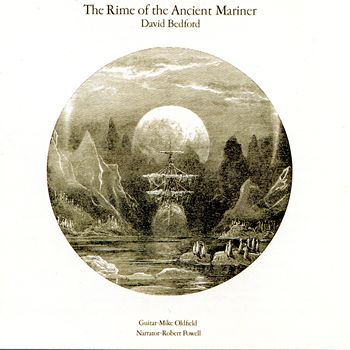 David Bedford music, Gustav Doré pictures
Benighted Kingdom strikes again... dept.
I see our doubtless fragrant Home Secretary has expressed herself disappointed by the news that the European Court of Human Rights has ruled that our fine police chaps have no right to hang on to DNA evidence obtained from people not charged in criminal cases "just in case" because it is discriminatory. How annoying it must be to be so thwarted. How horrid it must be to be so, so, what's the word? I remember when New Statesman took a pop at Tom King back in 1995, they picked the word "stupid":

I do like that last sentence.
You'll wonder where the money went...
... when you pay your combined gas and electricity bills by direct debit,4 login to tell them your latest meter readings (as just requested by email) and discover you are currently £353-21 in credit. I hadn't realised I was banking with the b****rs. Bet they don't pay me any interest. Not that it would now amount to much. <Sigh>
Decoding the English... dept.
Nice. Very nice. Christa would have loved this 1959 "interpretive key" by Tony Mayer, and would also been tickled to learn that Dalrymple had a German mother. (Relevant aside here in the text after the Dalrymple quotation):
I may be wrong — I am absolutely sure. I don't know much about — I am a specialist in. No trouble at all — What a burden! We must keep in touch — Good-bye forever. Must you go? — At last! Not too bad — Absolutely wonderful.
Cripes!
I'm to undergo a brief visitation from niece #1 early next week. Better dig out the Dyson. What do nieces eat, do you suppose? In other news, that recently-mentioned fellow retiree and ex-colleague Dave Mitchell has just paid me the great compliment of adapting some of my CSS5 for his own web site. Very spiffy, if I may say so! Having recently re-watched "The Usual Suspects", I was interested to read his essay on the "realisation" sequence in this fine film.
Pah! No "Little Dorrit" for David tonight. Instead, the BBC inflicts some low-life criminal on me on both BBC1 and the HD channel. One could ask: "what the Dickens?" Haven't they got any real news?
Right. The next crockpot is simmering nicely for its overnight cooking session. I've just checked, and Mr ERNIE is on the hook to send me £100 as a present later this month ("Every little helps" says dear ol' Dad.) I've got network access from the Linux box downstairs to one of my XP machines upstairs — what's it got against the other one? But not an audio peep out of it, yet. And another 28MB of patches, too. No matter; I'm retired, you know. The weather isn't looking too great for our intended healthy jaunt tomorrow, but then they got today pretty wrong so who can say? It's 22:30 and perhaps time to read a Linux book rather than just flying blind. How hard can it be? It's only bits.
Speaking of which, time to rip the next little batch of CDs to mp3 format. It's 23:37 and I'm starting to droop a little. I must say, I hope the latest Stephen Fry "podgram" (which seems to be a six-minute video file weighing in at 53MB or so) is worth the 45 minutes the iMac is currently telling me it's going to take to download. The other podcasts I subscribe to all came in much more quickly tonight.
Footnotes