2008 — 4 October: Saturday
Tonight's picture is of Christa in the garden pond here three years ago: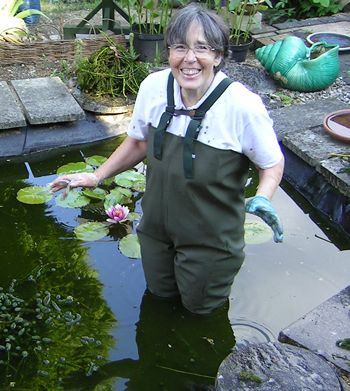 Christa in the garden pond, 2005
Visible behind her right shoulder is the foot of the bird-table that was our final attempt to tempt the local dickie birds1 to eat at a table. There are so many cats around, however, that said dickie birds are nearly extinct hereabouts. Happier days, happy smile. Ho hum. G'night!
Lucia...
...is my Donizetti breakfast companion2 (Maria Callas, 1953) as I hurl in some cereal in prep for a hastily-arranged walk later this morning out near Cheriton. It's 10:06 and I've been awake for, oh, all of 20 minutes.
Back!
It's 15:56 and I've been listening for the last 50 minutes, since I got back, to the Iranian ensemble, the Kamkars — not to everyone's taste, and certainly not to Christa's, but I find it strangely compelling. It was a pretty chilly walk, windy and some bits of drizzle, with rain as we drove back. But a welcome pint at the Flower Pots halfway point, and a pork, apple and onion bap to placate the inner man. Summer is definitely over.
The following figure is from something that looks an awful lot like the FBI's guide to how to commit property fraud. Amazing!

And (moving from the sublime to the ridiculous) here's an extract from a 1937 guide on how to make a good mother-in-law:
Never interfere with your married children, their homes or their possessions. If you do, you will soon find that you are not wanted. If your opinion is sought, give it, but be circumspect how you give it. If your opinion is not sought, don't volunteer it, just because you feel you ought. Keep to these rules and you will be a welcome visitor. Break them and you will be one more mother-in-law who has added to the sum of total unhappiness in the world.
You hafta smile! My mother-in-law was brilliant. Christa, it seemed to me, got a poorer deal. Well, it's 17:12, there's some excellent jazz on the radio, I've moved the ingredients for my evening meal out of the fridge in readiness, and I intend to listen to the "Archive Hour" tribute to the late Geoffrey Perkins later on. Meanwhile, it's still trying to rain and be horrible outside — we chose a good time to walk, Mike.
Useless Rotten Crud... dept.
I am a great admirer of young Mr Stephen Fry, who has a point — a whole series of points — in his current "dork talk" on universal remote controls. Mind you, I'm only on device number six so far though I note, glumly, that said device is one of those attracting Stephen's utter disdain. Snippet:
It was with low expectations, then, that I unpacked the Logitech Harmony One and the Philips Prestigo SRU 8015. Each has a colour LCD screen and claims to solve your remote control problems in one fell swoop with ease and power. After half an hour with each, I wanted to hurl them out of the window. They are not as dreadful as what has gone before, they are much worse: worse because there is so much more (badly implemented) technology to come between the problem and the solution. They both come - and this should alert anyone with an eye sensitive to technology - in the shiny piano black that was fashionable some years ago...
Still, at least he likes the Canon range of digital SLRs! He finds a positive use for the Nintendo Wii, too: "If your wife, mother or lover has a china ornament you have always hated, make sure it is within a 10-yard radius of the TV and you can be sure it will be smashed within a fortnight. Another Wii service for which we can all be truly thankful." (Source.)
From the six o'clock national news bulletin: "A junior minister who wondered why the credit crunch was making everyone 'so bloody miserable' has been sacked." Classic.
Footnotes