2008 — 2 October: Thursday
Time for my next picture of Christa and Peter. It dates way back to one of our very first visits to the seaside (the "real" seaside in Bournemouth, that is — not the bit of the Solent we first explored on moving down here from Old Windsor!). Dear mama knitted Peter's jumper, by the way. One she did for me to a slightly larger pattern went to young Gilly-willy (wonder if she still has it?):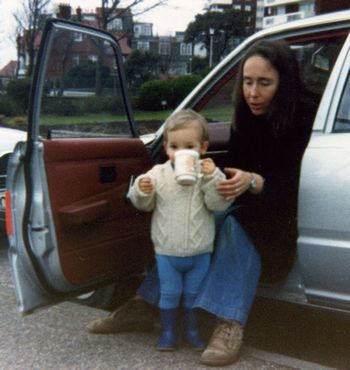 Christa and Peter on an early trip to Bournemouth
We'd parked on the clifftop just a little way along from the Russell-Cotes museum, which I have still yet to visit quarter of a century later. G'night, at 00:01ish.
Steve Lamacq on BBC 6Music just played the theme from Get Carter which makes my next viewing decision very easy!
Morning again already?
Good grief. It's nearly 10:00 and positively brisk out there in the brightness. My local network software is throwing a wobbly, claiming to be "not connected" though email and web access still seem to be unaffected. Maybe my first cuppa will cure it. Mortgage loans are down by over 95% between August 2007 and August this year (and that's before the latest rounds of misery and mayhem, of course). The latest issue of Private Eye has a fascinating and sickening article on the history of failed regulatory attempts since the 1929 crash, basically. Money always talks. And here's a snippet from a glossy card lying on the doormat just this morning. I added the red line:

I note that Gordon Brown's "FSA" takes a lot of stick in the article, and that "buy to let" mortgages helped topple Bradford and Bingley. This particular bit of "small print" is so small on the original postcard that the proofreader failed to notice the all-too-appropriate typo in the name of the outfit, too! "Northern Wreck", meanwhile, is now bumping up against the 1.5% limit that is the maximum amount that can be deposited with it now that (being nationalised) it's regarded as a safe haven.
Penultimate chance... dept.
My friend ERNIE has just smiled gently on Christa (to the tune of £50) on what is his last but one chance to make her a millionaire. She's smiling. I'm off out while the sun is also (still) just about smiling. Got to try out the new engine oil in the car. It's 11:40.
In town today... dept.
As I've said in the past, no time spent in a bookshop is ever wasted. I have a lunch date tomorrow so the traditional weekly visit to Southampton got bumped forward by 24 hours. Besides, the sun was shining, though it was surprisingly chilly despite the four layers of clothing. Today's little crop of horrors after nearly two hours of browsing: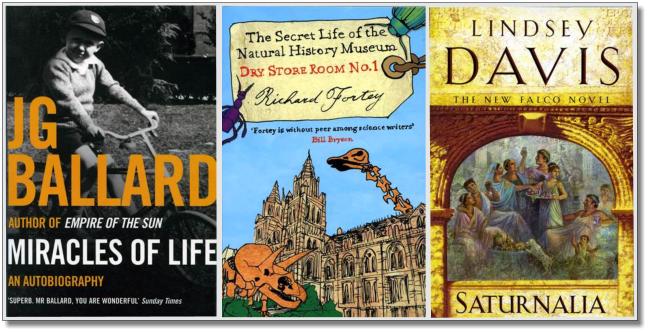 Ballard is a class act I've been reading for over 40 years. Fortey (or "Mr Trilobite") has an engaging style. Davis evokes the streets of ancient Rome, and plonks a private eye / Imperial troubleshooter into them. (I've actually exchanged email with Ms Davis — she tells me quite a few of her readers have or had a background in I.T.) I was also surprised and pleased to find a new paperback reprint of CS Forester's "The Hornblower companion" though I felt no need to supplement my 31-year-old hardback (having checked to see there was no new material in this reprint, of course).
Having hastily and hungrily feasted on my return, I learned my co-pilot couldn't come out to play, so I nipped over to Roger and Eileen for a natter and a cuppa. I also learned about the double three-legged gravity escapement, Roger having studied horology. Nice animation here and related information about the Westminster Tower clock (the one with Big Ben) here.
In later news... dept.
Toyota left a phone message for Christa to see if she was happy with yesterday's service. I fear they'll wait a long time for a reply. And my network software has spontaneously sprung back into action, unlike our rail network. It's 19:22 and I shall now finish off the current crockpot and then settle back to watch Ian Hislop moaning about Dr Beeching.1 I note there's a repeat of a 1986 interview with that gentleman, too. I'll give it a try.
Footnote