2008 — 31 August: Sunday
Happy birthday, Michael! I'm just (01:31) safely back, and will now finish digesting the delicious duck with a late-night / early-morning cuppa. Which just leaves me the choice of tonight's picture of Christa.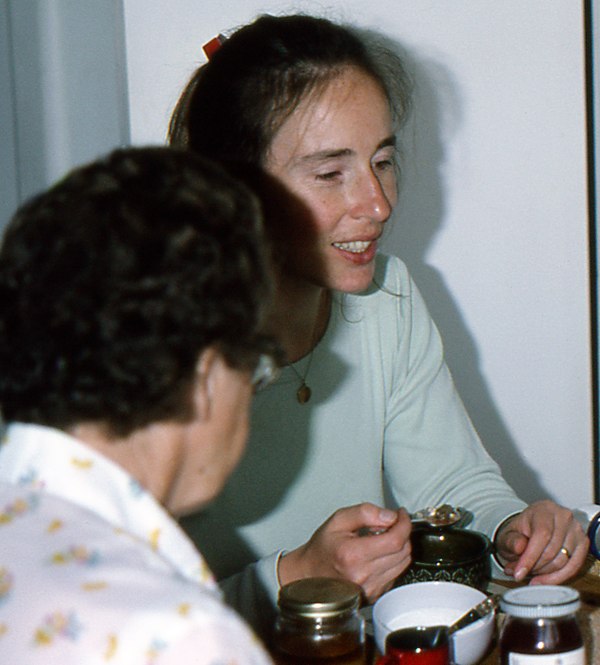 It shows her and Mutti at breakfast in Old Windsor, probably in the late summer of 1976. A nice pair of people! Oh well, g'night, at 02:03ish — tomorrow (that is, later today) is another day. A day for stuffing the next crockpot, for example. Battling some more Sudoku (an oddly engaging pastime). Filling up the washing machine, and doubtless a few more bits'n'bobs here and there.
Failure to connect... dept.
I have heard back from Lis in NZ, who (overnight) tells me that "I was actually in touch with the USA Mounces many years ago but could not attach them to your family." Well I have a crockpot to stuff (it's 09:06, and time to get moving, as it were). Time for a cuppa too, of course.
Right! While the unwatched pot now slowly simmers into a satisfying supper I have time to sup a second cuppa, contemplate the slowly lightening sky (it rained briefly about 30 minutes ago) and comb my thoughts, such as they are, into some form of order. Could always get dressed too, I suppose. It's 10:13 and there's some of that mysterious Charles Ives "Central Park in the Dark (in the Good Old Summertime) (A Contemplation of Nothing Serious)" stuff oozing out of the speakers throughout the house — the main living room system, the dining room radio, and the study system... I find the late Mr Ives quite difficult to grasp, but often good fun.
Stringy memes... dept.
Physics can be tricky to grasp, too, even though when I was scratching the surface of it for one of my "A"-levels back in 1969 it was my favourite subject.1 At some point yesterday afternoon I heard "Is that all there is?" played on the radio. Its lyrics (by Jerry Leiber and Mike Stoller) are more than somewhat downbeat, but then the chap who wrote "The End of Science" some ten years ago could also be so described:
Science itself tells us that there are limits to knowledge. Relativity theory prohibits travel or communication faster than light. Quantum mechanics and chaos theory constrain the precision with which we can make predictions. Evolutionary biology reminds us that we are animals, shaped by natural selection not for discovering deep truths of nature but for breeding.
He's no fan of string theory, either, as is clear from his review of "Stringing us along" — a book by Peter Woit. I like the term he uses for string theory advocates: "pluckers".2 According to Horgan, "string theorists dominate particle physics in terms of publications, grants and tenured faculty positions — even though they have not produced an iota3 of evidence for the theory. The MacArthur Foundation has awarded nine fellowships for particle physics since 1981, and eight have gone to pluckers." (Source.) I've met some pluckers in my time, it occurs to me.
Music is so evocative... dept.
Last September (despite being much distracted) I caught the last twenty minutes or so of the BBC Radio 3 programme "Private Passions" with Private Eye cartoonist and musician Barry Fantoni. Although I'm delighted today to be listening to a repeat of the whole programme, I'm very saddened to learn in it that Ian Carr (a wonderful jazz trumpeter and driving force behind the jazz/rock fusion band Nucleus) was by then in sadly declining health and apparently in a nursing home. I've been enchanted by Carr's music since I first heard "Elastic Rock" back in 1970. (He's a good writer, too.)
Suddenly it's 14:58 and the empty sensation in the tum suggests some food. Washing machine to empty. Laundry to hang up (but not out in the drizzle). Fresh cuppa to make and enjoy. I think I'll treat myself to one of those simple Big Bro breakfasts ("Nobody does it better" as Carly Simon is singing right now!)
On balance, I'm not really sure I liked the 1980s pop music much. All that electrosynth and drum machine stuff. Mind you, it was still preferable to the uneuphonious stuff that was so much a characteristic of "punk". Very little of that seems to have endured.4 Should I try the "high-octane pianism" coming up from the Proms in five minutes, I wonder? We shall see. Good heavens! A nine-year-old pianist in a Schubert duet? I don't think so.
That said, I have to admit the BBC 6Music Freak Zone I transferred my aural attention to has been deliciously esoteric so far this evening — but it's 18:51 and time I lifted the lid on tonight's little crockpot extravaganza, methinks. Right! It's now 19:39 and should have eased off on its mouth-searing temperature. Amusingly, Robert Wyatt of Soft Machine is name-checking all sorts of people during a BBC Top Gear concert. This is long before the current motoring show (of course). In fact it was for a 1969 concert recorded for John Peel. I'm now (20:56) replete, and listening to Verdi's Requiem. In between the Sudoku. I don't understand a word, of course, but am idly wondering why bits of the Verdi make the hairs on my arms stand up. What can possibly be the evolutionary advantage of that?
Footnotes