2008 — 18 July: Friday
Another week winds down towards an end. I took tonight's picture in September 1975, as we stopped briefly on our drive down to Penzance for our first real holiday together and our delayed honeymoon: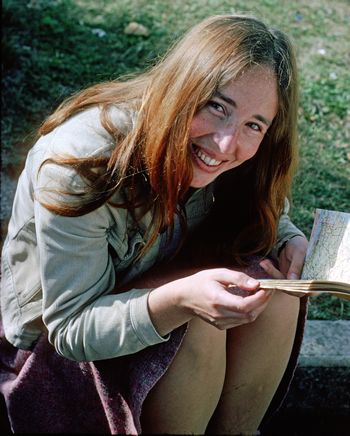 Christa studying our route to Penzance, September 1975
Here's hoping the "HDFury" shows up later today, as promised by an email from the supplier. Oh well, g'night at 00:01 or so.
A load of schist... dept.
I've long been interested in 3D photography and have followed the various attempts to present 3D slide shows and movies to us. I missed this one. Wonder what's nifty about the "nifty new 3-D glasses"? They're usually either polarised or red-green anaglyphic. I even bought Peter a set that hooked up to his Sega console, many years ago now. These were LCD-based and switched on and off the left and right lenses synchronised with the left and right views being shown on the TV screen, but at a sufficiently low frequency as to deliver a splitting headache within a couple of minutes of use.
I also have a sneaky regard for ants. Apparently, the 14,001st species has just been discovered in Brazil! The writer describes it as "a living coelacanth of ants" which sounds a bit fishy to this amateur naturalist. And, as I finish my brekkie, so too I finish "missing the wrist" — worth a look.
Now back to the unreal world. Mustn't forget lunch is in the IBM clubhouse. Where's Mr Postie with my little parcel? (It's 10:11 and I'm as impatient as ever.)
Carry on, Ian!
I've just been browsing my friend Ian's website (the technology link under "Writings" is bust, by the way, and only appears on a subordinate page — been there, done that!) and recommend it.
No use being impatient... dept.
Lunch has been pleasantly ingested in pleasant ex-colleagues' company, thank you. But, sadly, I had to swing by the relocated Post Office on the way back home, to send back the wrong version of the HDFury, in its unopened blister pack. So my new young chum Simon got a minor-league flea in his telephone earpiece late this morning. On with the re-wiring. "You don't get nowhere if you're too hasty". Of course, if I'm at the P.O. it's a very short walk from there to Jonathan's Arcade book shop. Report to follow, probably. (Well, it is Friday, after all.)
Remember that last batch...
... of security updates? This made me laugh: