2008 — 1 Feb: Friday, and "rabbits" again
Quite why I keep up the family tradition (from my Dad) of saying "Rabbits" before anything else on the first of each month when it's supposed to guarantee good luck is an unanswerable question. But I'm not about to change any time soon. I observed another (newer) family tradition, too: my lovely Christa would smile every time she saw me, which was every bit as delightful as she was.
Here she is, from the earliest days of my retirement, in November 2006. She'd just decided to get her sewing machine1 out of its own semi-retirement, too. It was time, she told me, to "do something" about some of our more venerable curtains here and there in the house. She was "fed up" of seeing dangling threads where she'd not quite finished the job first time around. As our fridge magnet says "Dull women have immaculate houses". Life with Christa was many things, but dull was never one of them: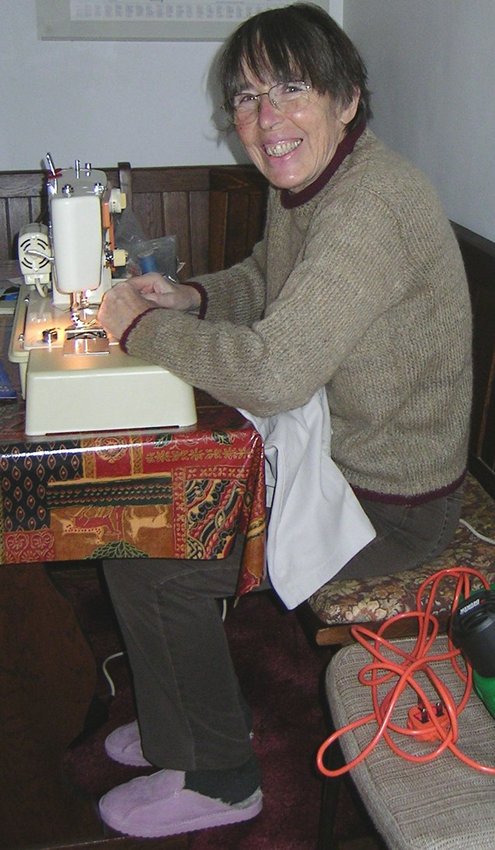 By the way, should you be wondering about yesterday evening's entertainment, I watched a variant fairy tale about the troll and the billy goats. I cannot honestly say that the BBC's high-definition channel added much to the experience, though Bernard Hill (whom I still remember as "Yosser" in Boys from the Black Stuff) was certainly well hidden under the prosthetics and troll makeup!
What's happened?
It's fast approaching 10:20 and the sky is blue (and cloudless) while the ground remains uncovered by all the snow they've been talking about. But my outgoing emails are each taking upwards of a minute to get off the launchpad into cyberspace.
What's next?
Well, I'm predicting some kind of retail therapy. Friday always was the day we permitted ourselves a little financial relaxation, what with its "Get out of jail slightly earlier" flavour at the IBM Lab. So, what shall it be? Southampton, perhaps? Or maybe even a little further afield. Methinks I shall pack a picnic and go inspect some of the waves.
I have a confused reader! He struggles with the out-of-chronological-order bits, such as yesterday's recent maternal update even though I add timestamps (if I can be bothered). Today, now (15:09, for instance) I've been back from my mighty picnic outing for all of nine minutes, beating the rain shower neatly into the car's nest, and can report 55.8 miles (there and back) to the delightful (albeit freezing cold) Keyhaven, gateway, as it were, to Hurst Castle. (Not that the little ferry boat was running today.) And, if the CCD thaws out, I should have a number of digipix to prove it. Christa and I went there quite a few times; I remember on the last occasion we sat on a particular bench ...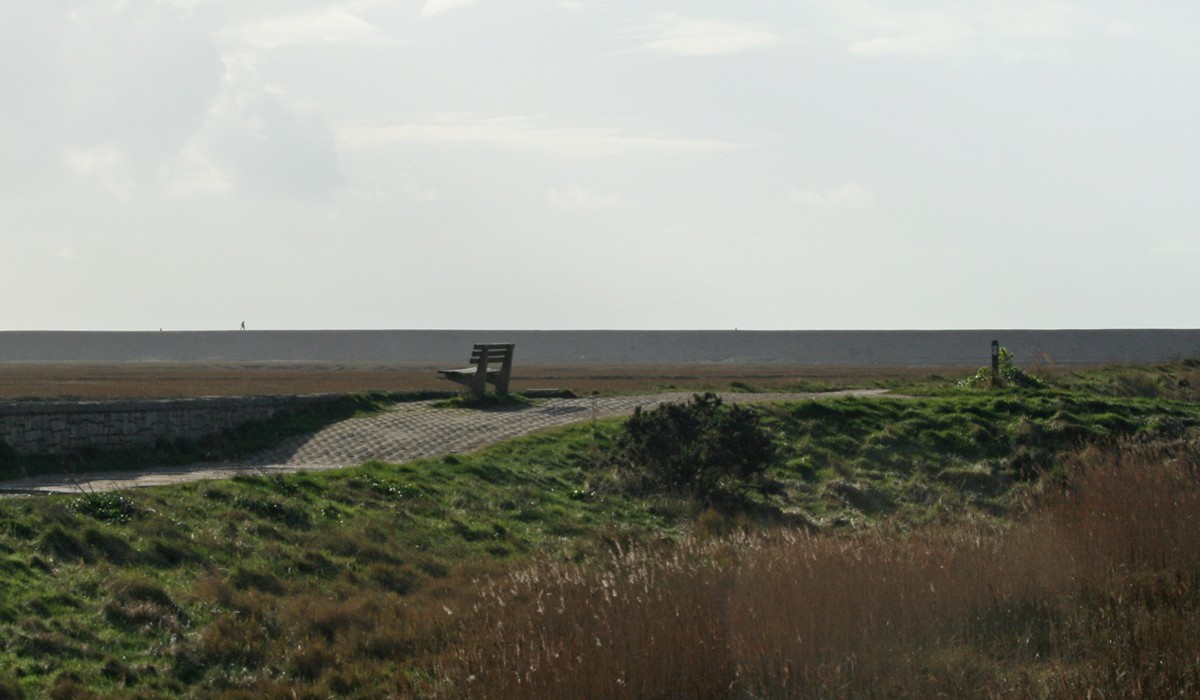 ... and watched as swans ...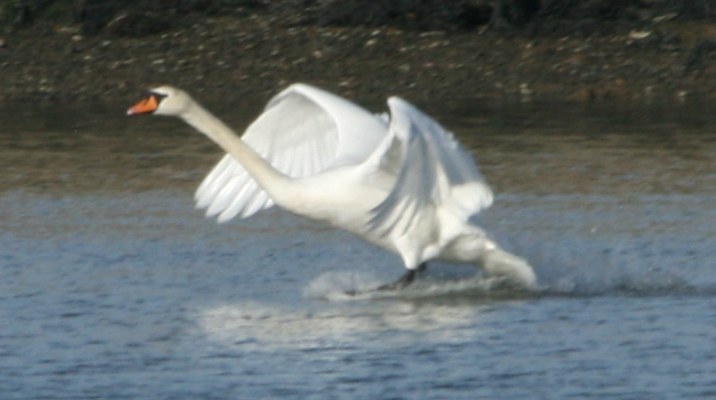 ... flapped noisily past us and our sandwiches. On a previous visit, we lunched in The Gun Inn and I did consider asking today if they would let me photograph their menu for old time's sake. The tears welling up briefly2 dissuaded me on this occasion. (No-one likes to see a grown man cry, not even me.)
No retail therapy, though. I decided sunshine, fresh sea air, and a few seabirds...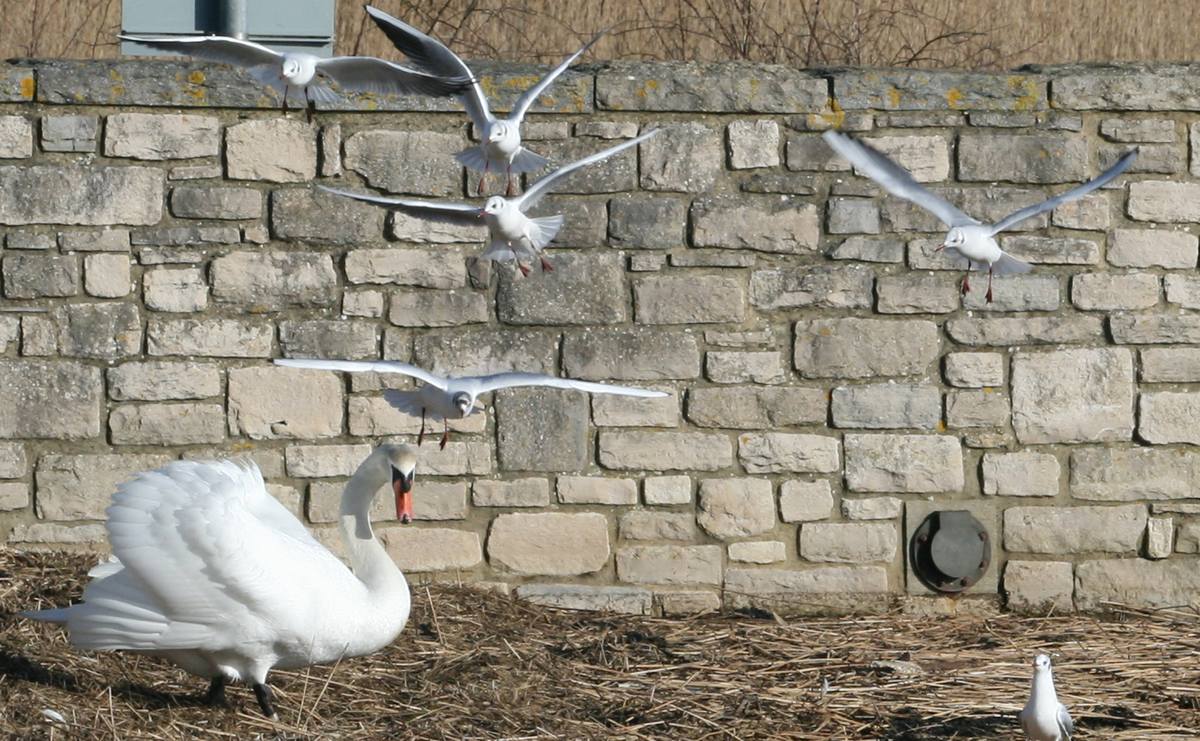 ... outweigh yet more consumer fripperies. And it turned out the car park pay-and-display doesn't even start charging until March. Nice one! They could have done with a hand-washing water supply in the Gents though.
Time to feed the inner man again. But, I ask you, could there be a more beautiful piece of soul food for my mood right now (18:33) than Barber's Agnus Dei on Radio 3 as I try to type!
Retail therapy did not get entirely overlooked today, after all. Those frightfully nice people at Play.com sent me a newsletter, and I succumbed to the temptation of DVDs of Ratatouille and the Family Guy Blue Harvest parody variant of "Star Wars: A New Hope Episode IV". I did postpone for the time being any decision about buying the Aaron Sorkin "Studio 60" TV series. What with being a poor pensioner, and all. (Actually, Christa watched the first episode of that with me when it was shown on More4 but, to be brutally honest, by then we both felt we had more important things to do with our remaining time together.)
Bruce Dickinson's Friday rock show on BBC 6Music is making me smile a lot. He's an amazingly high-energy DJ cum pilot cum singer with Iron Maiden with a sense of humour. Dear Mama would not approve.
Footnotes