2007 — 24 December: I'm predicting freezing foggy Monday
Right. That's just about it for the diary this year. As I will be staying with my cousin Leigh up in Sutton Coldfield (God willing and the creek don't rise) I shall let my overworked PC cool down for a week. Same with email; please don't expect responses before about 29 December. Gosh, it's going to be strange.
Stardust
Finally got the round tuit I needed — the alternative being chores and packing etc — so I watched the new Stardust DVD. Christa would have loved it. And De Niro steals it.
Christa's wonderful smile (2)... department
So I shall sign off for now with another smile from my Christa. Click the pic to see her in the garage, back in March (just after I bought the new digital camera):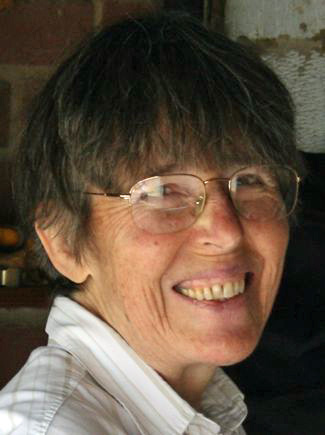 Christa in the garage, 17 March 2007
Despatches from the North
I called Leigh and Ann just before I set off to let them know the time (10:35 or so) and to stop me from changing my mind and chickening out of this solo adventure. So, off to the races. I joined the motorway at Otterbourne to avoid, at least, any possibility of being "trapped" as I was yesterday. (You get a clear view from the elevated roundabouts, and would be able to avoid entering the slip road if the system is at a standstill.) I drove for about two hours non-stop, but then — shortly after I realised why the car in the middle lane coming up behind me didn't hold back to let me out to overtake (because he was boxed in and the right hand lane was full) — decided I must be tired because I'd failed to decipher this situation. So, an expensive coffee and pain au chocolat at a services where Christa and I had stopped for picnics many times before — a poignant thought. I still had about 40 minutes to go but what's the hurry?
Somehow, I also managed to dodge the expensive M6 toll section, though I expect I simply fumbled one of the sat nav recommendations. I can always tell "after the event" because the lady in the box starts to sulk and announces she is "recalculating". Although the sat nav is a blessing, I've been advised by two of my friends not to become too dependent on it (recall HAL in 2001). My admiration for Christa's skill and navigational competence is now even higher, though I know she had well over 40 years of driving experience to guide her. Anyway (or "any road up" as they used to say in these parts) I arrived safely but, rather to my chagrin, collapsed promptly in a teary heap for a minute or so. Leigh and Ann were, of course, immensely welcoming and very sympathetic. When I explained how I'd been skirting parts of Birmingham, they said it was pretty nasty traffic, and expressed some admiration for my driving progress in the last two months.
I am now installed in the one bedroom on the third floor, with a games room on one side and a whirlpool bath, shower etc all to my self. Theirs is a large, oldish house almost on the edge of Sutton Park. It's two doors along from what was Leigh's parents' house which, I'm told, most recently changed hands at around the £1m mark. I stayed several times in that house before I met Christa, and we've both stayed there and at Leigh and Ann's in the past.
Before the kettle had boiled, we scattered some of Christa's ashes in the back garden. This was a happy house for Christa, Peter and me in the past, and remains happy for Leigh and Ann. Rest peacefully, Christa!
The afternoon and evening whizzed by with preparation for a traditional Christmas Day drinks for the neighbours gathering. Then it was time for some of the training exercises on Leigh's Wii games machine so I don't get too humiliated. Another new experience! It seems I'm also at liberty to do anything necessary to improve the TV pictures on the two plasma screens and the HD LCD one. They have Sky, Virgin cable, and an amazingly undocumented lash up for displaying various channels in various rooms, with at least two DVD recorders in the mix somewhere. And, while I'm at it, can I do anything about Ann's XP desktop, please?
Some of the evening was a bit of a blur. Cousin Leigh mixes the strongest Margarita I've encountered since Mike P introduced me to this wonderful anaesthetic. And there was a nightcap of St. Kitts rum and coke to contend with, too. So my battered copy of Catch 22 never even got opened tonight. So to bed.