2007 — 4 September: yippee! the dentist!
Heading towards 10 o'clock already. All meds loaded except the morphine. Brekkie onboard, along with a disgusting chocolate drink made to Her exacting specification. Time to give the fangs a once-over before setting off to see the fang doctor. I used to dread1 these expeditions (in fact, I guess I still do) but I must say this appointment is barely registering on the Richter scale as I seem to have other things on what passes for my mind these days.
Cool diversions
After the dentist (who said my chipped tooth could probably last years without work), my accomplice very kindly took me on into Eastleigh where I raided the Robert Dyas "end of summer" bargain shelves for a large insulated cool bag and a couple of packs of freezable gel, plus a couple of smaller bags that will do nicely for the hot meals on wheels if we ever have to be out at the time of delivery. (Said time is, as it were, a bit of a movable feast.)
Lunch and a nap, from which we're woken by a call from a nurse who will pop round tomorrow morning (before we set off for the CT scan) to try out a range of different cushions in an attempt to fix Her inability to sit comfortably. Plus the GP said last week she'd pop in at about this time just to keep an eye on us. Then our chum Heidi will pop round later for a brief chat. I tell you, it's all "go" here at Technology Towers.
Oh, I've also just finished reading the IBM 2006 pensions members' report. Production, printing and distribution costs of which must easily match the amount that I get as an annual pension, of course. What's wrong with email and a PDF document, I wonder?
Afternoon in the garden
What's on the other hand? Click the pic!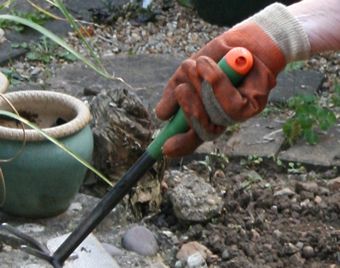 My indomitable lady
Am I part of a prize pear, I wonder? Click the pic!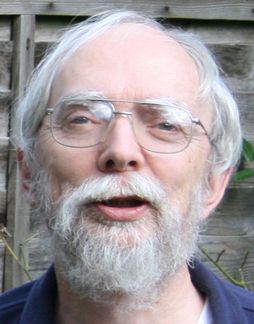 I can still smile... Particularly when I see Her.
Evening underground
We caught up with the afternoon broadcast of the 1950 film The Wooden Horse based on the book by Eric Williams. I'd forgotten, or repressed, my memory of the claustrophobic tunnelling scenes. It's now 22:20; all meds taken for the day and She's already been asleep for twenty minutes or so. By the way, thank you, Heidi, for the delicious piece of cinnamon and apple sponge cake! Oh, and my provisional driving licence arrived in the snail mail this morning. Back to the Theory book.
Footnote