2007 — 2 May: six months of blissful unemployment
Do you think perhaps it's time to clean up around here a little? A beautifully produced online Macintosh magazine I subscribe to has a lovely piece about the iRobot. (Thinks: where could they have got that name from?)
Our robot has a strange relationship with the nest of snakes that live under our desks, and we find ourselves arranging furniture to suit the robot. He is often to be found "mounting" the base of our circular table as well ... We are planning to get him a little friend, the iRobot Scooba that washes the floor as well as cleaning. If it could clean out my hard disks every now and again, so much the better.
The same magazine also hosts a marvellous archive of pictures. Well worth a browse, trust me. Some of the images will make your eyes water, in a good way.
Henry Root rides again
Meanwhile, all this week I'm enjoying 15 minutes a day with Terence Blacker's "You cannot live as I have lived and not end up like this" — the life and merry times of William Donaldson (aka Henry Root). And if you have to ask "Who he?" I begin to despair!
Today's mystery object
In thumbnail form...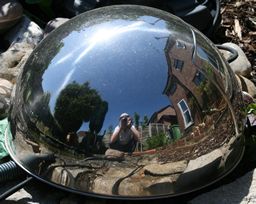 And if you need a bigger clue.
Is this allowed so early in May?
In thumbnail form...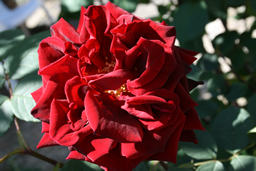 A brace of bigger pictures.
Enough with the pictures, what about the movies?
We watched the Louis Malle film Pretty Baby last night. I then asked Mrs Google a few pertinent questions about photographer EJ Bellocq and his chosen milieu. "Storyville" itself, I learned, was named after Alderman Sidney Story who proposed the ordinance making this district of New Orleans home to legalised prostitution from January 1, 1898 until November 12, 1917. And the navy closed it down, though whether simply by withdrawing their custom I couldn't possibly comment.
Day 180